The SR5 van racking system from Sortimo International has won the prestigious Plus X Award as "Best Product of the Year 2019". In addition, the market leader for van racking and smart mobility solutions can boast four of the seven seals of approval for the innovative racking system's outstanding brand quality.
SR5, the new and innovative racking system presented by Sortimo International at the IAA Commercial Vehicles 2018, was recently awarded the title "Best Product of the Year 2019" in the category "Automotive Accessories" by the expert judges of the internationally renowned Plus X Award.
Sortimo is delighted with the award, which confirms it's van racking solution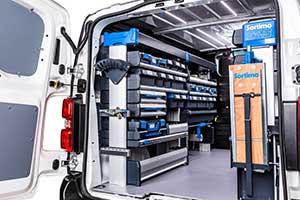 as a sustainable, innovative and ground-breaking product in the automotive sector.
The Plus X Award is the world's greatest innovation award for technology, sport, automotive and lifestyle and honours brands for their superior quality and innovative edge.
Sortimo's SR5 van racking system won over the international panel of experts, consisting of representatives from more than 80 different sectors, with the quality of it's products in two respects and was furthermore awarded four of the seven Plus X Award seals of approval as a sign of brand quality: high quality, functionality, ergonomics and design.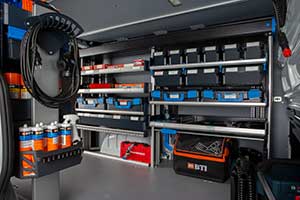 With the new SR5 racking system, Sortimo enables tradespeople, service engineers and fleet customers to organise their workplaces perfectly in the tightest of spaces.
Thanks to SR5, internal company processes can be further optimised, and workflows become much more targeted and efficient, which contributes to an increase in productivity in everyday working life.
The van racking features impressively narrow dimensions, as it makes optimum use of the available cargo space in the van.
SR5 offers a highly efficient mobile working environment as well as full integration of tools, machines and consumables beyond system boundaries thanks to a wide range of customisation options via the van racking configurator mySortimo configuration.
For more information please visit www.mysortimo.co.uk