An industry expert, Echo, is calling out for social media giants to do more to remove 'how to' videos that provide dangerous advice on how people can illegally cheat their energy meter.
The investigation by Echo Managed Services and Grosvenor Services Group found 94,700 YouTube results under the search term "how to hack your energy meter;" some with millions of views.
The practice causes at least one death or injury every 10 days in the UK but safety warnings were absent from almost all of the tutorial videos investigated on the streaming site.
Many of the most-viewed videos state that their method is "legal" or, because it doesn't stop the meter altogether (just slow it down), it was non-punishable or invisible to authorities. This is highly misleading to viewers in the UK, where any form of meter cheating is illegal and can lead to five years in prison.
Some comments on the videos also advertise a paid-for tamper service. This is a real-life practice whereby "professional" meter thieves target vulnerable families, visiting them door-to-door, and interfere with their meter for a – sometimes very large – fee, on the promise of cheaper energy bills.
Even one incident of meter tampering can leave unsafe gas and electrical sup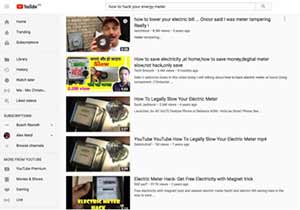 plies, which can cause electric shocks, fires and even explosions. However, the online comments analysed did not provide details of how meter cheating can put many households at risk.
This was concerning given that recent Echo research found 39% of billpayers are completely unaware of the threat meter tampering causes to public safety. This group could therefore be more easily influenced by the offer of cheaper energy fees, as they do not understand the potential consequences.
The analysis comes as social media companies face intense scrutiny around the availability of harmful online content to children.
Lloyd Birkhead, managing director of Grosvenor Services Group, said:
"It's shocking that such dangerous tutorials are allowed to exist on the world's biggest social media platforms. They pose a real danger to society. Methods employed in these videos should never be carried out by a skilled technician – let alone an untrained member of the public. The promise that an individual can "cut [their] electricity bill in half" is hugely enticing – particularly for those on low incomes or those looking to carry out illegal activity such as cannabis farming. However, the reality is incredibly serious and video streaming sites have a responsibility to crack down on the practice. Current statistics show that 150,000 cases of energy theft are investigated annually in the UK, but only around 1,500 people are charged. We must therefore come together to prevent and prosecute. Closer links between the government, social media companies, energy suppliers and police could improve these figures. We need to show energy thieves how seriously their actions can impact innocent lives, as well as the tough sanctions they will face when prosecuted."
For more information about Echo please click here