New EV jobs set to more than double losses incurred in traditional car industry
Over one million new jobs are set to be created in the European electric car market by 2050, according to a new report from the European Association of Electrical Contractors (AIE).
The AIE study found that full electrification of the passenger car market across the current 28 members of the EU would generate 1.2 million jobs. These would largely be associated with the manufacturing, installation, operation and maintenance of charging points and batteries, and electricity generation.
Significantly, if only 35 per cent of new cars registered in the EU28 in 2030 are electric, nearly 200,000 jobs would be created in the sector. This figure could more than double the number that could be lost in the traditional car market as a result of the electric car revolution.
Giorgia Concas, Secretary General of AIE, commented:
"The shift to electric cars is expected to create 200,000 new jobs by 2030, the majority for electrical contractors across Europe. Electromobility is a massive business opportunity for local companies to generate local, green, highly skilled jobs."
Luke Osborne, Energy & Emerging Technologies Solutions Advisor at ECA, commented: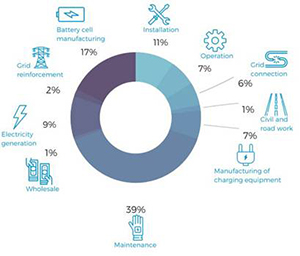 "Electric vehicles are a fast-evolving area. The benefits to both the economy and the environment are potentially huge. With regard to business opportunities, employment opportunities and the economic gains for society, the future looks bright."
"If the government wants to ban sales of new petrol and diesel cars by 2040 and adhere to its Road to Zero plan, a robust public electric vehicle charging infrastructure will be a vital priority, especially for the 43 per cent of households without access to off-street parking."
ECA provides guidance and professional advice to help its near 3,000 member businesses navigate the process of registering with the Office for Low Emission Vehicles (OLEV) in order to access and facilitate grants for EV installations. ECA has also produced comprehensive information and guidance relating to the 18th Edition Wiring Regulations (BS7671) and EV charging.