The UK's first 'Electric Streets' are now in operation in East London. This groundbreaking scheme places a ban on all petrol and diesel cars on nine designated roads around Shoreditch and Old Street.
The only way to avoid the £130 fine is for drivers to use electric vehicles or the latest hybrid and hydrogen models. In an attempt to cut pollution and reduce the dangerous levels of air pollution in Islington and Hackney, restrictions will be in place between 7am-10am and 4pm-7pm on weekdays.
Driving an ultra-low emissions vehicle – meaning a vehicle that emits less than 75kg of CO2 – on the affected roads will ensure you remain exempt from the new restrictions. The scheme has been introduced on Blackall Street, Cowper Street, Paul Street, Tabernacle Street, Ravey Street, Singer Street, Willow Street, Charlotte Road and Rivington Street.
What are the options for my business?
Fortunately, several manufacturers have started developing electric vans to keep your business operations throughout the low emission neighbourhoods that are now in force.
You can opt for the Citroën Berlingo Electric or Partner Partner Electric small e-vans which currently have a range of 106 miles. Alternatively, the Renault Kangoo ZE 33 has a much larger range of 170 miles which has been developed in tandem with the 100% electric Renault Zoe car.
However, if you want the small electric van with the longest driving range in the class, you will need to look at the Nissan e-NV200.
What does the Nissan e-NV200 have to offer?
The 2018 electric version of the Nissan NV200 van boasts a range up to 187 miles which is a 60% increase over the 106-mile range offered by the outgoing version. With a new 40kWh battery (upgraded from the previous 22kWh model) mounted under the load area floor, you can now go even further in this best-selling van.
The increase in battery size doesn't impact the van's physical capabilities. The battery itself hasn't got any bigger; the increase in range is a result of increasing the battery's density so it's able to hold more electricity than before.
In terms of load space, 2018 e-NV200 has the same 4.2m³ load area as the previous model and the conventional NV200 diesel version, so there's still space for two Euro pallets. The load area dimensions also remain unchanged, but there is an increase in payload from 678kg to 705kg.
How long does it take to charge the Nissan e-NV200?
The speed of recharging an electric vehicle depends on the charger you're using and how depleted the battery is.
The longest possible time it will take is 21.5 hours if you're trying to get a full charge from empty using a domestic 13-amp three-pin plug. This is not the advised method for recharging your electric van.
Instead, a 32-amp 'wallbox' home charging station is recommended to be installed at home (or at your offices) to greatly reduce recharging time to just 7.5 hours. By plugging your van in every evening and charging it overnight, you're ready to drive off with a full battery every morning.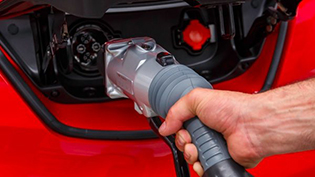 Occasionally, you might find that you need a little boost while you're out and about to see you through to the end of the day. When this happens, you can utilise a rapid charging station, which can deliver up to an 80% charge in just 40 minutes.
Could more ultra-low emissions roads appear in London?
Successful motoring policies in Greater London are often rolled out elsewhere across the capital, so there is every chance that the initial 'Electric Streets' in East London are just the beginning.
In fact, the City of London Corporation is planning to launch a similar trial in April which will limit the access to Moor Lane, near Moorgate, to ultra-low emission vehicles. And let's not forgot about the new Ultra-Low-Emission Zone (ULEZ) coming into force from April 2019 which will run 24/7 and on top of the existing Congestion Charge.
Loads of Vans in North Cheam, Surrey currently have stock of Acenta and top of the range Tekna Nissan e-NV200 vans from just £19,999. Call 0203 846 3903 or email vans@wilsons.co.uk for more information.