Harrogate-based ventilation manufacturer EnviroVent will be revealing its Roadmap to Net Zero at the Homes UK 2021 exhibition (ExCel London 23-24 November).
The leading ventilation manufacturer, will be demonstrating all the measures it has put in place to achieve net zero carbon by 2030 at this social housing show. The company's Roadmap will mean an emissions saving of more than 1,000 tonnes of carbon over 10 years.
Rachael Tranter, SHEQ Manager (Safety, Health, Environmental and Quality), explains: "Environmental sustainability is very important to us and to our social housing customers. We're really excited to be demonstrating our very clear roadmap to net zero by 2030 at Homes UK. We are 100 per cent committed to achieving this as we see it as the future for our company and it means those buying our ventilation systems can be safe in the knowledge they are giving back to the planet."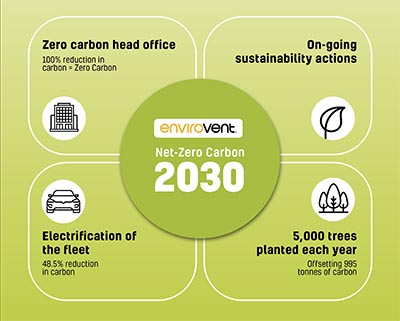 To meet this ambitious target, a number of sustainability practices have been put in place by EnviroVent to reduce the company's carbon footprint. Recently this has included committing to planting 5,000 trees per year as part of a new partnership with MoreTrees, an organisation that will plant trees responsibly on its behalf over a long-term period and then manage them for life.
Through MoreTrees, EnviroVent has already planted 1,000 trees. Straightaway, these trees have offset 300 tonnes of CO2 from the atmosphere and these are contributing oxygen. Planting 5,000 trees every year will remove a total of approximately 1,500 tonnes of CO2 from the atmosphere.
EnviroVent's Roadmap also includes relocating to a zero carbon purpose-built headquarters in 2022, which will be heated sustainably via air source heat pumps and its electricity will be generated via solar panels.
Through a combination of upgrading company vehicles and replacing diesel-fuelled cars with hybrid vehicles in its fleet, EnviroVent will dramatically reduce its carbon emissions.
The company is also involved in a number of projects with social and private housing customers to reduce the carbon footprint and energy usage in their housing stock. Project 80 by the housing association Midland Heart, is a new build scheme in Birmingham that will meet the Government's Future Homes Standard, thereby reducing carbon emission by up to 80%. EnviroVent's energiSava 250 MVHR (Mechanical Ventilation Heat Recovery) systems have been selected for use within a number of the 12 homes being built here. Homes will be monitored constantly as this research and development programme will be used to inform the Government's next consultation about the Future Homes Standard that will be compulsory for all new homes built by 2025.
In addition, EnviroVent was recently commended for its commitment to the environment by winning The ASCP Safety & Compliance Awards for Best Product for Improvement to Wellbeing with its new ATMOS ventilation unit.
ATMOS is a ventilation system which reduces condensation and eliminates mould growth in the home, whilst minimising energy usage and running costs.
EnviroVent has a manufacturing plant for ventilation systems and a distribution site, located in Harrogate. The company supplies some of the top UK housebuilders, as well as local authorities, housing associations and homeowners.
For more details of EnviroVent's ventilation products, visit the website www.envirovent.com.