The Essentra Components series of guides now includes their new issue covering Access Hardware solutions to keep equipment secure.
The guide covers access solutions from security to noise reduction in industrial applications such as building outdoor cabinets, generators, machinery, electrical cabinets and HVAC units where there are lots of factors to take into consideration. When it comes to access hardware, security and material choice are key – this guide is designed to give readers an introduction to the differences and effects of modifications in material, specification and customisable features to add depending on requirements.
Topics covered include quarter-turn and cam locks – since cabinets can be susceptible to tampering and ingress of dirt or liquids. IP65 rated locks offer protection with unrivalled ease of motion and functionality, providing peace of mind for enclosure builders and their customers while cam locks offer added security in sensitive applications with options for keys to prevent tampering – keeping cabinets fully operational.
Regarding hinges often a full, restricted or controlled range of door motion is require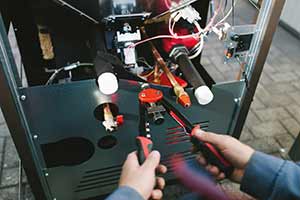 d when accessing an enclosure or cabinet. Using the right hinge can provide maximum accessibility for end users, while easy opening latches and catches are important in maintaining ease of access and saving time in a busy environment.
Hinges, latches, catches and locks are usually found together with gaskets – for when cabinets are needed to prevent ingress of dust or water – or to isolate noise and vibration in industrial environments.
The Essentra Components Access Hardware Guide is available free from here
Further information on Essentra Components products can be found on the Essentra Components website. Follow them on social media: https://facebook.com, www.linkedin.com, https://www.youtube.com