Electric Vehicle drivers arriving at Anglian Water's offices throughout the region will be able to charge their vehicles using brand new Rolec EV charging points.
The water company chose to install a network of SecuriCharge, AutoCharge and Quantum EV charging units across six sites, having required a solution which could provide charging while implementing a user-dependent variety of tariffs.
Anglian Water required its staff to be able to access the EV charging points using one particular payment rate, visitors to the site using another, and free EV charging to be provided for their fleet vehicles.
Rolec EV's Business Development Manager, Frank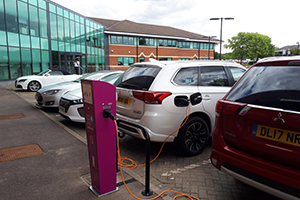 ie Mellon, commented:
"We are delighted to be working with Anglian Water on this EV charging project across their many UK locations. It is pleasing to see one of the UK's leading utility providers encouraging its employees and visitors to drive EVs. The EV charging points Anglian Water chose to install all feature our EV Charge Online management system, which is able to provide the ideal bespoke solution in order to meet all of the project's requirements. Anglian Water's EV charging network operates in the form of PAYG, at varying tariff rates dependent on the user, supported by full back office management."
Anglian Water chose the EV Charge Online management system due to its simple to use, simple to manage, future-proof EV charging features which provide a pay-to-charge solution via the EV driver's mobile phone or any other web-enabled device.
Anglian Water's Head of Fleet Services, Stewart Lightbody, said:
"We are very pleased to announce this partnership with Rolec. We can now provide our fleet, and staff, with an affordable electric vehicle charging point to keep emissions as low as we possibly can. As a business, we're committed to reducing our carbon emissions and this is another fantastic example."
The user simply pays for the charge advertised on the charging point or app using
secure WorldPay protected payment methods such as Visa, Mastercard and American
Express.
Easy to install, the versatile EV Charge Online system only requires an electricity supply, and Ethernet connection or GPRS signal, in order to be installed at any location.
The flexible design inherent in EV Charge Online allows any operator the ability to manage a single charge point through to a national multiple charge point network. With EV Charge Online, they pay no licence fees and can set their own charging tariffs.
For more information about EV charging please click here.