Done are the days of classic programming having to enter each user codes one by one, site by site!
The GALEO Bluetooth allows for programming and remote control via an app available on both IOS and Android.
This new version of the GALEO can be programmed as usual after defining a master code or via Bluetooth using the CDVI Manager app.
The installer's phone becomes the keypad's remote control. Installation and programming done through the app are easy and straightforward.
End users can open doors and gates from the app via the unlocking of the locking system up-to a 10-meter range. The system administrator can control the access codes of everyone via the app and allow or deny access. To make sure user data is stored safely, the app provides a secure online safe for user data storage.
Top 3 features for the installe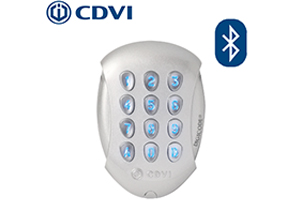 r:
Easy installation and programming
Architecture sharing for quick reproduction
Multi-site gestion in one app
Top 3 features for the end user:
Open doors or gates remotely
Ability to give temporary access to a contractor or tenant
Ability to decide schedules (dates and times) for visitors
Availability:
All GALEO keypads now come with the integrated Bluetooth features. Installers can decide whether to enable the Bluetooth app or use it as a simple robust keypad.
Both apps are now available on the App Store and Google Play.
For more information about GALEO, please contact Fiona Rappin fiona.rappin@cdvi.co.uk / 01628 533957