Following a hugely successful in-person comeback in 2022 after three years away due to Covid, FIREX, returns to ExCeL London from 16-18 May this year with a packed expo hall, topical seminar programme, inspirational speakers, new Distributor Network and a partnership with charity Mates in Mind.
As an integral part of the fire safety community, FIREX is the perfect place to connect face-to-face with the entire fire safety supply chain and network with companies across passive fire protection and prevention, fire detection and emergency lighting.
Gerry Dunphy, FIREX Event Director, said, "Every visitor will come away from FIREX with knowledge and inspiration to help make buildings comply and approach projects more efficiently."
A key theme for this year's show is sustainability. The show's organiser, Informa Markets, pledges to be the most sustainable event organiser in the world and is committed to becoming carbon neutral by 2025. "As a business we are completely dedicated to being a positive impact business that has sustainability at the core of what we are doing. We have a really good programme at Informa called Faster Forward and one of the principles is becoming carbon neutral by 2025," Gerry said.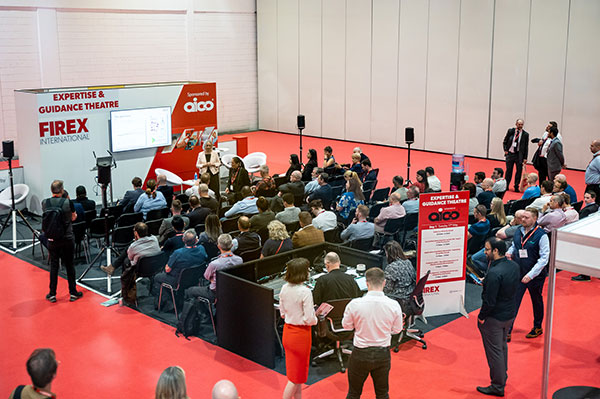 THIRD-PARTY APPROVED
FIREX has taken the decision to fully commit to only supporting and promoting third-party approvals, independent accreditation and competency for construction products and services, making it the only event in the UK which makes accreditation a condition of exhibiting. This means all exhibiting companies with relevant fire protection or prevention systems and materials will need to hold recognised third-party approval on their products.
Gerry said, "We don't see life safety as a game. We want visitors to understand that, when they come to FIREX, they are in a completely competent, accredited environment where everything they see and everyone they talk to, will have accreditation and approvals at the heart of what they do."
NEW DISTRIBUTOR NETWORK
New to FIREX and IFSEC for 2023, the Distributor Network recognises the essential role distributors play in the professional fire and security sectors. Visiting customers can meet leading distributors such as ADI Global, DVS, CIE-Group, COP, Dynamic CCTV and Oprema to discuss product solutions from market leading suppliers.
PASSIVE FIRE EXPERIENCE
Hosted by ASFP, the passive fire experience takes visitors on a journey of what passive fire protection means, and what the solutions are for facilities and buildings. "It is a virtual reality simulator that visitors can go into and experience passive fire protection solutions in a VR scenario," said Gerry.
SEMINAR PROGRAMME
Visitors can stay on top of government legislation, industry standards and best practice in the Expertise and Guidance Theatre sessions led by leading industry professionals.
With inspirational speakers including Professor Sir Jonathan Van-Tam and Dame Joanna Lumley DBE, this year's seminar sessions on the show floor will also cover the biggest topics affecting the fire industry, including an opening panel discussion with Grenfell residents, are li-ion batteries safe or sustainable, IoT's role in fire safety, the golden thread in building safety, mental health and more.
A FEW SESSION HIGHLIGHTS
Tuesday 16 May
We're Not Fire Safety Experts. Fire Safety Measures: the resident's view
1100:1130, FIREX Expertise & Guidance Theatre
Speaker: Ian Moore, CEO, Fire Industry Association and panel debate
Golden Years. Where does the Golden Thread lead?
12:30:1300, FIREX Expertise & Guidance Theatre
Speaker: Andrew Cooper, Manging Director, Global HSE
Wednesday 17 May
Is our reliance on lithium-ion batteries safe or sustainable?
1100:1130, FIREX Expertise & Guidance Theatre
Speaker: Matt Humby, Senior Technical Sales Consultant, Firechief Global
Time to talk. Mental health awareness in the fire sector
1145:1230, FIREX Expertise & Guidance Theatre
Speakers: Peter Kelly, Head of Programmes, Mates in Mind
James Jones, Managing Director, Vimpex
Michelle Agius, Managing Director, Eurotech
Tom Simmonds, Chief Executive Officer, Allsaved
Thursday 18 May
Building Safety Act: Knowing your responsibilities
1145:1215, FIREX Expertise & Guidance Theatre
Speakers: Natalie Sellar LLP, Managing Associate (Global Investigations), Addleshaw Goddard
Adrian Mansbridge, Legal Director, Addleshaw Goddard
The full agenda is now live and can be viewed here.
TALL BUILDINGS FIRE SAFETY CONFERENCE
Back for its 8th edition, the tall buildings fire safety conference will cover three key themes. Gerry explained, "We're really pleased the tall buildings fire safety conference is back. The programme this year is divided into three specific days, delegates can register now."
Tuesday 16 May – High Rise Construction Fire Safety – Book Now
Wednesday 17 May – Green Fire Safety Issues – Book Now
Thursday 18 May – Crisis Management in High Rise & Complex Buildings – Book Now
MATES IN MIND
This year FIREX has partnered with a leading mental health and wellbeing charity, Gerry said: "We are delighted to partner with Mates in Mind this year – since they launched in 2017, Mates in Mind have been committed to improving mental health across the construction industry. Their target is to reach 75% of the industry by 2025 and we are thrilled to be working with them to help spread their message within what has been a traditionally very difficult audience to break into."
EXHIBITION
FIREX gives thousands of visitors the opportunity to meet hundreds of leading fire safety suppliers showcasing some of the newest fire safety technologies available. Exhibitors confirmed for 2023 include C-Tec, Apollo Fire Detectors, Kentec, Advanced, Rockwool, Detector Testers, Warrington Testing & Certification, Aico, PlanRadar, Baldwin Boxall, Quelfire, Uptick, and many more.
EXHIBITOR LAUNCHES AND DEMONSTRATIONS
Several exhibitors will be showcasing brand new products at FIREX this year, including:
Advanced (FI.1837) – showcasing AdvancedLive
At FIREX, Advanced will be showcasing AdvancedLive, its brand-new remote monitoring platform that allows users to view and control elements of their fire system from any internet-enabled device, at any location. Visitors can also get to grips with Go, its new-generation, single-loop fire panel.
Visit stand FI.1837 for product demonstrations.
Onetrace (FI.1239) – demoing Onetrace software
Onetrace will be delivering one- to-one demonstrations of its Onetrace software at FIREX. Onetrace allows contractors to capture, monitor, review and report all from within one single system. Its intuitive design delivers the optimal user experience; allowing contractors to easily provide complete traceability and transparency to their clients.
Visit stand FI.1239 for product demonstrations.
Kingspan Technical Insulation (FI.1020) – showcasing The Kingspan Safire Ventilated Cavity Barrier
At FIREX, Kingspan will be showcasing The Kingspan Safire Ventilated Cavity Barrier, that provides an effective "open-state" barrier against the spread of smoke and fire within the cavity of rainscreen façade systems.
The product has been shown to provide up to 120 minutes integrity and 90 minutes insulation when tested under the demanding ASFP TGD 19: Fire resistance test for 'open-state' cavity barriers used in the external envelope or fabric of buildings.
Hyfire and Ramtech (FI.2430) – part of the Orama Group
Hyfire will present the Taurus wireless fire solution, including the TauREX software for programming and setting up the Taurus system. The new TauREX configuration tool brings new user-friendly features which will empower users to save time and effort when programming and maintaining a Taurus system.
Ramtech will be demonstrating the full capabilities of the WES Temporary Wireless Fire Alarm System in conjunction with the REACT Emergency Notification System. REACT solves emergency communication challenges on construction sites by allowing rapid communication to the relevant personnel.
UAP Limited (FI.1030) – Launching IONIC and Armasmart
UAP Limited we will be launching two new products at FIREX: The IONIC and Armasmart. The Ionic, a new ultra-secure electronic door lock that enables access via a smartphone App, has been designed to meet a growing demand for smart technology with the aim of improving security, convenience and ease of use.
Armasmart is a new product to be launched under its Armadillo brand. Forming part of a new range, this product is set to revolutionise the industry by providing an anti-bacterial coating for door hardware that prevents tarnishing.
Allegion (UK) Ltd (FI.1217) – demonstrating Briton cam-action closers
At FIREX, first time exhibitors Allegion, will be demonstrating Briton cam-action closers and discussing how cam action technology provides reliable closing for fire door applications and easy operation for accessibility. Allegion will also be showcasing Briton 376 Series panic exit devices, designed to satisfy panic exit and emergency exit applications.
Visit stand FI.1217 for product demonstrations.
AP Sensing GmbH (FI.2019) – showcasing new fibre optic LHD
AP Sensing GmbH will be showcasing it newly developed fiber optic Linear Heat Detection (LHD) device, type N45x7A at FIREX.
Visit stand FI.2019 for product demonstrations
Sentura Group T/A Firechief Global (FI.2017) – launching Firechief Pyroflow
At FIREX, Sentura Group T/A Firechief Global, will be launching Firechief PyroFlow, a new product in its lithium-Ion battery safety range. Firechief PyroFlow is a mineral-based extinguishing agent that is non-toxic and eco-friendly and can be used to fight and prevent fires in metal, lithium-ion battery cells and combustible liquids.
The full exhibitor list can be viewed here.
ELIZABETH LINE
The launch of the brand-new Elizabeth Line means visitors can now access ExCeL direct from as far away as Reading, Heathrow and Shenfield.
"The Elizabeth Line is now open and visitors can travel to ExCeL from central London in under 13 minutes, and direct from Heathrow in 45. It's an absolute game changer," said Gerry.
CO-LOCATED EVENTS
FIREX – and its three co-located events – IFSEC, Facilities Show and Safety & Health Expo – are all free to attend. Visitor registration is open now.
• 2023 marks the 50th anniversary of IFSEC, the UK's largest and longest-running security event that provides tens of thousands of visitors an unrivalled opportunity to meet hundreds of leading security suppliers across access control, video surveillance, perimeter protection, cyber security and more.
• Facilities Show is the world's largest dedicated facilities management event where visitors can prep for the future of the workplace and explore solutions for making them smarter, more efficient and more sustainable.
Safety & Health Expo welcomes thousands of health and safety professionals to connect with peers and discover solutions to combat safety risks in the workplace and keep up to date with mental health initiatives.