Gira, one of the world's leading full-range suppliers of intelligent system solutions for building management is shortlisted for an Electrical Wholesaler Award 2019, and gains seven award nominations across four categories:
Best Energy Saving Product:
eNet SMART HOME heating control with tado°

Gira X1 & S1
Best New Product:
eNet SMART HOME heating control with tado°

Gira X1 & S1

Gira Studio Design Line
Best Safety/Security Product:
Gira Smoke Alarm Dual Q
Best Overall Supplier:
Gira
The Electrical Wholesaler Awards 2019, is an established platform for the recognition of excellence and achievement across the electrical wholesaling sector, and it takes place on Thursday 9thMay 2019 at The Towel Hotel, London.
The winners will be decided via a two-part election process, where a panel of experts combined with results from an online industry poll have equal share of the vote, ensuring that the final winners are awarded for both technical and practical excellence.
VOTE ONLINE FOR GIRA TO WIN HERE:
www.electricalwholesalerawards.co.uk/vote/
Voting closes Friday 29 March, 2019
"The 2019 edition of the Electrical Wholesaler Awards marks the introduction of a number of brand new categories designed to reflect the changing face of the industry and a revamped decision-making process, which will ensure that only the very best take home a trophy" says Datateam Business Media, publisher of Electrical Wholesaler magazine.
Mark Booth Managing Director, Gira UK says: "To be shortlisted for an Electrical Wholesaler Award, let alone seven, is a real testament for both brand and business: nationally and internationally. We're so proud to be positioned at the forefront of design and innovation for the 'Smart Home', allowing the modern property to convene with lifestyle, personal preferences and daily routine. As the population adapts to technology at an upward pace, we are working in tandem to influence, guide, support and importantly, offer quality solutions to the market that promote optimum design and excellence."
eNet SMART HOME heating control with tado°
Gira collaborate with tado° to create a smart heating control system for the eNet SMART HOME. Convenience for maximum living comfort, the eNet SMART HOME heating control with tado° wireless technology enables convenient control of radiators and underfloor heating all via the intelligent networking of a Gira eNet wireless wall transmitter or the eNet SMART HOME app on the Gira G1 or a smartphone.
Gira X1 & S1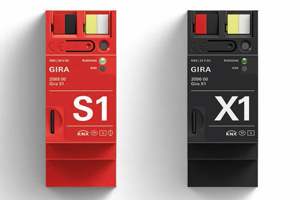 Achieve secure building intelligence with the Gira X1 Compact Smart Home Server combined with the Gira S1 Remote Access Module to enable users to remotely connect to their KNX smart home with total security. The cornerstone of the intelligent home, the new Gira X1 compact Smart Home Server allows the user to switch lights on and off, raise and lower blinds, as well as manage home temperature settings for optimal comfort: from anywhere in the building or remotely. The new Gira S1 ensures that all communication is encrypted and adheres to German data protection standards to ensure all Gira customers are fully protected with safe and secure technology.
Gira Studio Design Line
A dynamic switch collection with 3 installation variants, the Gira Studio Design Line is defined by its new characteristics that interplay between function and design where a square becomes a circle. The Gira Studio Design Line will awaken the static nature of a bare wall to elevate a space to new degrees of form and function and break new ground within the electrical design market: epitomising luxury specification at the highest level. Offering more than 300 functions, Gira Studio is designed to complement the Gira System 55 range.
Gira Smoke Alarm Dual Q
Twice as safe by measuring both temperature and scattered light, the new Gira Dual Q smoke alarm device is equipped with two detection processes and marked with the Q quality seal. Attaining twice the level of safety, Gira Dual Q visually identifies small smoke particles before the situation gets too dangerous. In addition, thermal sensors measure temperature changes within the room. In this way various types of fires, such as liquid fire, can be registered more rapidly and reliably identified. For even more safety, convenience and efficiency, the functions of the Gira Dual Q smoke alarm device can be networked and expanded through optionally available devices: up to 40 devices.
If you have any questions about Gira, please contact:
Miss. Emily McCullagh – Associate Director, Publicity Engineers,
Suite 2, 1-3 Western Road, Romford, Essex RM1 3LD, United Kingdom
Phone +44 (0)1992 478 109, Mobile: +44 (0)7572 505 713