Gira, one of the world's leading full-range suppliers of intelligent system solutions for building management, is pleased to welcome three new team members to its prestigious UK brand and business.
This new trio will join as Trade Sales Representatives across key areas of the UK and will each be responsible for:
Visiting and developing business relationships with the electrical wholesale: new and existing

Promoting the Gira product portfolio via its relevant business channels

Promoting key promotional offers by Gira

Offering basic in-store Gira training for respective customers
David Appleton, Trade Sales Representative [Midlands], Gira UK
David comes with a great background and working knowledge of Trade-Counter operation, having worked for the UK's largest electrical wholesaler and supplier, CEF for over a decade. Since 2009, David's role covered all aspects of the business including the warehouse and trade counter, to developing into the role of Business Development Manager at CEF. This position involved safeguarding current business relationships by regularly visiting customers and implementing new tactics for generating first-hand leads and sales.
Benjamin Middleton,Trade Sales Representative [London], Gira UK
Ben also brings a formidable knowledge of B2B relations via the Trade-Counter, benefitting from 6 years' experience at CEF, when he then moved to a smaller independent supplier which concluded in a role at the UK's largest electrical distribution company, Edmundson. During this process, Ben gained valuable insights into the different approaches taken by each Trade-Counter: how it operated, the company structure and unique business strategies to secure new business, partners and achieve set goals.
Mr. Matthew Ireland, Trade Sales Representative [London], Gira UK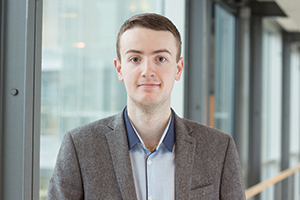 Matthew impressed Gira UK in the initial stage of interview, substantiating his expert sales approach, process and industry knowledge of the electrical retail sectors: bolstered by palpable sales. Matthew's career history includes a variety of relatable positions to Gira, starting with his role as Sales Representative for leading UK distributor, DAB pumps. Matthew was involved in driving target based sales, elevating industry awareness for both brand and business, as well as being responsible for hosting breakfast mornings, events and attending exhibitions to generate leads and purchasing.
Mark Booth, Managing Director at Gira UK says:
"We're happy to welcome three new additions to the UK team, offering a sound knowledge of electrical wiring components, extensive sales experience and strong collaborative mentally. Their keenness to progress is vital to the development and increased specification of Gira products and services, helping our businessfurther understand this segment of the market and encourage a new level of market endurance."
For more information about Gira Uk please click here