​
This article is a summary of latest HQTS webinar "Sourcing Home Appliance from China: Ensuring Quality and Compliance", with Vestel General Manager Ulas Ozcan and HQTS Quality Control Consumer line specialist Sam Caan as speakers, you can watch the webinar for free clicking here.
China's Home Appliance Market Overview
China's home appliance industry has become globally competitive in production scale and export volume despite the challenges posed by the COVID-19 pandemic. Only in 2021, the country exported over 3.87 billion sets of home appliance products, an increase of 10.1 percent year on year, and the total value of the exports surged 22.3 percent year on year to around $98.72 billion.
In a market with such potential, the opportunities are as many as the challenges: increasing regulations, custom complexity, high competition, adjusted returns, and quality issues are familiar terms for anyone involved in the industry.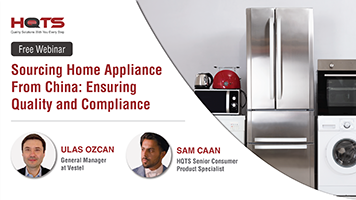 From 2020-to 2021, most people around the world stayed at home, ate at home, and cooked at home due to the COVID-19 pandemic. Therefore, the home appliance sector has continued to grow despite the challenges met by COVID-19, especially cooling-products, as people needed more storage to store groceries and frozen food. 
In 2021, the domestic and significant appliances sectors grew around 12% globally, excluding North America. Minor, domestic and major appliances are still going strong this year, along with IT electrical products. During the pandemic, people were chasing the best, lowest, and most competitive prices. Vestel has benefited from many people needing to use local sourcing, ensuring customers receive their products quickly, which has been a must-need over the last few years.
2022 has been a turbulent year; in 2021, everyone tended to place orders earlier, pulling demand forward. Therefore, by the end of 2021, it was expected that 2022 would see a drop in demand, which has been the case. Material costs, oils, lithium, steel, aluminum, copper, and plastics prices have increased throughout this year, putting pressure on supply chains across Asia and the rest of the world.
Increasing shipping costs has been another issue this year. Two-thousand-dollar containers have increased up to around 10,000 dollars, this creates significant cost factors, and this issue doesn't seem to be improving yet. It may not improve in 2022, primarily due to the recent lockdown in Shanghai. The number of cargo ships waiting at the port in Shanghai compared to 2020-2021 is three times larger, and this can take up to one yearly-quarter to recover from.
Also, it is predicted that the Chinese RMB will get slightly weaker as the year goes on, estimated at around 6.55 by the end of this year, and the Euro is also expected to lose value against the US Dollar narrowly.
China Home Appliance Exports
Chinese exports globally in 2021 on white goods had a 20% value growth and 8% quantity base growth. Kitchen appliances also grew to around 30-35%. However, this year has seen weakness in demand due to the COVID-19 pandemic, and the war in Europe has impacted the needs across Europe and exports from Europe to Asia.
Therefore, this year has been slightly weaker, and we may only expect a 2-5% growth. Overall, Europe has many challenges due to rising energy and shipping costs. May, June, and July should increase slightly, and demands should improve a little, but August, September, and October are quieter.
Sourcing Strategies
Suppose you are trying to increase your business in the Chinese market. In that case, it's crucial to know who you are working with and understand the supplier you are choosing, whether they are a manufacturer or a trading company, to ensure they are well equipped within their chosen specialty. It's vital to know that they can deal with any issues during production or supply chain materials. Ensure you get different offers from different regions and places and weigh up your options before making a final decision. A professional supplier audit is a key element when choosing and dealing with new suppliers or launching new products.
Ensuring Quality and Compliance
Home appliances are relatively complex products, they involve machinery materials and electronic parts, if the production enterprise lacks knowledge, the technology and the quality control discipline, the products could be prone to various defects such as fire hazards, electric shocks or chemical risks etc.
In 2021 in the EU, the unqualified, dangerous and defected rate of batches of domestic kitchen and bathroom electrical products was just over 10%, in addition home appliances are products with high use frequency and consumers usually do not have the professional knowledge to know how to use them properly if there is a defect. In order to prevent and control product quality and safety, inspection testing is compulsory for product safety.
Quality Control
Quality control is crucial and customers' demands should always be the priority and the number-one focus. If the customer doesn't like the quality standards, the business will not succeed. Locating defects and scrap is essential, these defects usually show up in the end product, and if they are found they can make the whole procedure inefficient and that particular batch cannot be sold or used, which increases businesses defect rates. Reducing variabilities in materials is also key, it's impossible to get the exact same materials all the time, therefore you should be able to identify inconsistencies.
As an importer, manufacturer or end-user; electronics quality control is an integral part of the production process, quality control matters because it determines the operating costs and the lifespan of the products, how long they will remain functional for the end-user as it can be very costly if the product fails or ends up in recalls. Electrical appliances had 23 recalls in March 2022 and in 2021 in Europe 2091 products were documented as risks such as, injuries, chemical risks, choking and electrical shock. In the USA, in March 2022 they recalled 21 products, 4 of which were electrical products.
How to Avoid Issues
Registering your products is vital, ensuring you can be directly informed if any issues occur and get any repairs done as soon as possible. Verifying compliance with market regulations ensures the manufacturer outside the EU has taken the necessary steps to allow the product to be placed on the EU market and quality control in electronics and manufacturing is a particularly important aspect as it's the first line of defense against compliance and safety issues.
Product safety legislation, product standards and type tests are the 3 main aspects to the acceptance of products being safe. Product safety legislation is a legal obligation of a manufacturer or supplier not to supply a product which could cause damage or injury. Product standards are developed to support the directives which enforce the CE mark requirements on products and type tests are standards laid out with the intention of providing a format for type testing the appliances, aimed at providing third-parties with a benchmark.
About HQTS Group: HQTS has over 25 years of experience in industry-leading quality control, including electronics testing, inspections, audits and quality engineering. HQTS offers customisable and technical services across the full supply chain in a range of verticals including consumer goods, industrial and commercial as well as governmental certifications to assists our clients' in reaching their goals and solving their challenges. ​