​
Knightsbridge, one of the UK's leading brands of wiring devices, accessories and lighting, has introduced convenient all-in-one dimmable LED kits for lighting under kitchen cabinets. Ideal for providing accent or task lighting, the easy-to-install kits comprise three 2.5W downlights, a six-way connector and a dimmable remote driver.
Flexible in its offering, these contemporary low-profile lights can be either surface or recess mounted. As well as coming in the handy kit with three lights, the stylish LED fittings – pre-wired with 2.5m of cable – can also be bought singly (without driver), allowing the installer or end user to easily expand the lighting array to up to six lights per driver.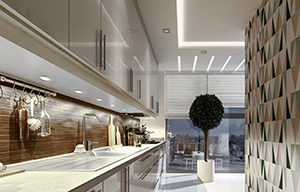 The lights also come in a choice of integral bezel finishes – brushed chrome and white – matching the most seen colours in modern kitchens. The lighting output includes warm white and cool white options, which again allows users to make a selection best suited to the overall aesthetic of their kitchen.
Delivering a quick and convenient solution to lighting under cabinets in kitchens, the UNDKIT3 all-in-one dimmable LED kits bring easy task and accent lighting to these overlooked and often underlit spaces in people's homes.
For further details of Knightsbridge's innovative wiring accessory and lighting products, please visit www.mlaccessories.co.uk or call 01582 887760. ​