​
Schneider Electric, the leader in the digital transformation of energy management and automation, has announced the launch of EVlink Pro AC for residential buildings. As building owners and housebuilders continue to navigate changing regulations, the connected EV charging station is designed specifically for buildings and makes installation simpler while offering superior flexibility and reliability for residents living in multi-family homes.
The flexible, easy to use and safe product is set to empower housebuilders, property developers, property owners and installers with the right technology and solution to help fight against climate change. It also answers a need to make installing multi-dwelling charging facilities less complex and expensive for building owners. Key features include: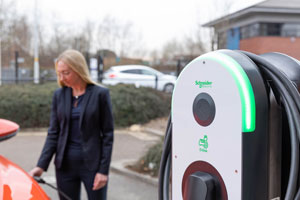 Advanced interoperability which connects to EcoStruxure EV Charging Expert, Schneider Electric's load-management system, helping to ensure reliable power availability while minimising costs for electrical network upgrades. This also contributes to minimising electricity bills for users, the value of which has never been more important.
Simple installation through the eSetup app for easy commissioning, operation, and maintenance. Embedded protection inside the unit also simplifies installation while ensuring maximum safety for the installer and EV driver.
Compliant to the latest EV ready standard, an embedded RCD Type B-EV reduces nuisance tripping, while an under-voltage tripping auxiliary cuts power in case of contactor damage.
The EVlink Pro AC provides an intelligent solution to a common problem experienced by residents in multi-dwelling buildings as it is packaged in an intuitive and user-friendly way:
Through an RFID/NFC reader, multiple users in the same complex can share the chargers, while a dedicated mobile app allows users to access and remotely monitor charging status.
The EVlink Pro AC also helps to drive down energy costs for consumers through high-precision metering, ensuring accurate and fair cost allocation by user.
Nico van der Merwe, VP of Home and Distribution at Schneider Electric, said, "Schneider Electric provides the technology to achieve government mandates which make delivering the UK Net Zero strategy a reality. The EVlink Pro AC is brought to the market in line with the UK government regulations which came into force in 2022, mandating that all new homes, as well as those under renovation, will be required to have electric vehicle charge points.
He continues "With the growing demand for more sustainable methods of transport and the supporting infrastructure, EV charging for multi-family buildings is a crucial enabler of the transition to smart, sustainable homes. With this announcement, Schneider Electric is demonstrating its commitment to all stakeholders in the smart home journey by creating reliable, flexible solutions that make homes work smarter." ​