Signify (Euronext: LIGHT), the world leader in lighting, has installed its connected lighting system Interact Sports at the Toyota Stadium in Aichi, Japan. It's the first outdoor stadium in Japan to install connected LED pitch lighting in combination with high performance Philips ArenaVision LEDs. Unique in the project was the use of robotic measurement while installing the connected lighting system.
The robotic measurement is part of Signify's innovative commissioning method. It helps to reduce installation time and significantly improves accuracy compared to traditional measurement methods. Aiming of floodlights, horizontal illuminance, color temperature and rendering are just a few of the components put to the test.
The total service package installed in Japan's first LED outdoor stadi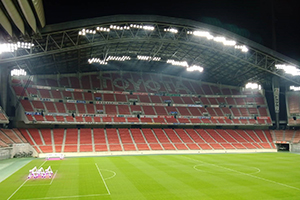 um includes software-based lighting design, 3D visualization and video aiming.
Already in operation in numerous stadiums around the world, Signify's innovative LED lighting system brings an immersive bowl lighting experience by seamlessly integrating color changing floodlights alongside entertainment lighting moving color spots.
The new lighting meets the stringent broadcast standards for flicker-free Ultra-HD 4K television and super slow-motion action replays, people at home can clearly see every detail and emotion on the pitch. Stadiums that already use Interact Sports include Atlético Madrid's Wanda Metropolitano and Juventus' Allianz Stadium.
Toyota Stadium upgraded its pitch floodlights with 554 energy-efficient LED lighting fixtures across its 45,000-seat stadium. It uses Interact Sports Lighting management software to control and manage Philips ArenaVision LED Field of Play (pitch) lighting. It combines seven different light distribution characteristics which make it possible to design lighting best suited for each player's action.
For more information about the LED pitch lighting please visit https://www.signify.com