At ELEX Exeter the LEDVANCE Truck will be making a guest appearance at the venue. With a variety of products on-board, the truck offers visitors a unique way to discover first-hand the latest comprehensive range of energy efficient lighting solutions
London, UK, 18 April 2019. At ELEX Exeter this year, the popular orange LEDVANCE truck will be situated outside the Westpoint Arena throughout the show, from 25-26th April 2019. Featuring an extensive range of the latest energy efficient, intelligent lighting solutions, lamps and modern LEDs, the truck addresses both indoor and outdoor lighting requirements. LEDVANCE experts will be available throughout the show to discuss the latest industry developments and offer advice to help visitors find the ideal solutions for lighting in offices, industrial, retail, hospitality and domestic installations.
Visitors will be invited to step on-board the truck for a hands-on experience of the latest luminaires including downlights, spots, floodlights, tubes, linear and panel LEDs, intelligent and connected lighting solutions, and the retro Vintage 1906 range.
Popular luminaires include the Damp Proof range, with a high I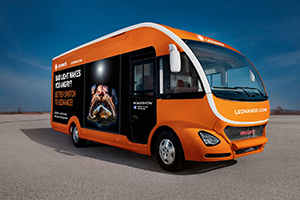 P rating making them ideal for damp and dusty locations and offering simple installation, excellent efficiency and a long service life.
With classic styles being on trend, the 1906 range from LEDVANCE offers an energy efficient retro look for any space. Using the classic lamp shapes and colours, the Vintage Edition 1906 range create atmospheric decorative lighting yet feature the latest LED technology, offering up to 80% energy cost savings compared to conventional products, and have a life span of 15,000 hours.
The TruSys flexible trunking system from LEDVANCE offers energy-saving uniform illumination for large areas. This versatile system consists of mounting rails and flat linear lighting inserts that installers can quickly and easily click into position, either mounted on the ceiling surface or suspended.
The ELEX shows offer a great opportunity to connect with experts and discover new products and solutions. Join the dedicated LEDVANCE team on the truck throughout the show to discuss your latest projects and requirements.
For more information about the LEDVANCE Truck please visit https://www.ledvance.co.uk