The Association for Specialist Fire Protection has launched a new e-learning Passive Fire Protection course designed to equip installers or new entrants to the sector with a basic knowledge of passive fire protection and its role in the overall fire strategy of a building.
Consisting of 13 short online videos, each of around 10-15 minutes in length, the ASFP Introduction to Passive Fire Protection is also ideal for all those involved in building maintenance or follow-on trades such as electricians or plumbers who may damage existing compartmentation and fire resisting walls in carrying out their work.
As well as providing a broad understanding of all types of passive fire protection systems, the learner will gain an understanding of: Fire safety in buildings; Human behaviour in fire; Fire testing; Contractor responsibilities; and the role of active fire protection.
It provides a detailed introduction to all types of pas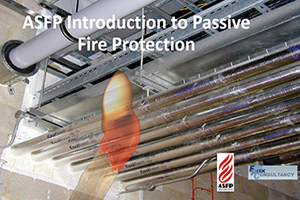 sive fire protection systems, including:
Fire protection to the structural frame of a building
Fire resisting walls, floors and ceilings
Fire stopping and penetration seals, cavity barriers and the building envelope
Fire resistant ducts and dampers
Fire resistant doors, shutters and associated hardware
Successful completion of the e-learning course will enable delegates to better understand the role of the various fire safety measures in the built environment, and particularly passive fire protection. Each delegate will also receive a Continuing Professional Development (CPD) certificate for a total of 3 CPD hours.
For those who wish to obtain a more detailed understanding of passive fire protection and to obtain formal qualifications, the ASFP also offers class-room based Foundation Courses in Passive Fire Protection. Individuals who undertake the 7-day course can study towards an examination leading to a Level 3 qualification in Passive Fire Protection. Those undertaking the 4-day course can study towards a Level 2 qualification.
The Foundation Course aims to equip candidates with the knowledge required to demonstrate competency, while also offering a route for progression and academic recognition in this key fire protection specialism. The qualifications are examined and awarded by the Institution of Fire Engineers (IFE) awarding organisation, which is regulated by the qualification regulators Ofqual and CCEA
The ASFP's range of courses allow learners to choose a course tailored to their learning needs, roles and responsibilities. The courses are suitable for all involved in the construction industry from installers and follow on trades, to designers and specifiers, contractors and specialist installers, as well as building owner occupiers, risk assessors and enforcement agencies.
For further information or to book the Passive Fire Protection course visit https://www.asfptraining.org.uk/