​
Leading cable management manufacturer Marshall-Tufflex has released its new catalogue. Featuring the latest Marshall-Tufflex and Bendex product innovations – including the Basor metal and PVC cable trays and 'Tufflex Tile', installers can order a hard copy to be delivered free of charge or download from the company's website.
'The Ultimate Guide to Cable Management', new catalogue
Titled 'The Ultimate Guide to Cable Management', the new catalogue is an essential resource for electrical contractors and engineers. Inside, professionals can find detailed information on both the Marshall-Tufflex and Bendex ranges, spanning both PVC-U, GRP and metal cable management solutions and accompanying accessories suitable across any application.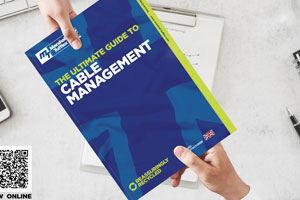 Also featured is the Basor wire basket and the new metal and PVC cable trays that enable simple routing and support of power and data cables. Thanks to a 'Fast Coupling' system that omits the need for separate couplers, the trays are quick and easy to install and available in three duty sizes to suit any project.
The new catalogue also clearly shows how much recycled content is used in each of the manufacturer's PVC-U systems, allowing tradespeople to meet the sustainability targets that are becoming key considerations in all areas of a building's design.
Ronnie Ford, Marketing Services Manager at Marshall-Tufflex said: "We are proud to provide electrical installers with a wide range of cable management solutions to suit any application and budget. With our new catalogue, professionals can quickly access detailed information about our full product range to aid the specification process, particularly for those looking to make more sustainable choices. Whether it be aluminium, steel or PVC-U trunking containing recycled content, baskets, ladders PowerPoles and Posts, we have a huge range, which is all detailed in our new catalogue."
To view the flip-book catalogue with interactive links or order a hard copy free of charge, please visit www.marshall-tufflex.com/newcatalogue ​