Martindale Electric – pioneers in electrical safety – is pleased to announce the arrival of its new Professional CD1000 general purpose Cable Detector.
The CD1000 is designed to quickly and accurately trace cables in walls and underground, locate fuses/breakers on Live or Dead Circuits and locate interruptions and open circuits in cables and electrical floor heating systems. The CD1000 can also be used to trace metallic water and heating pipes.
Supplied as a complete kit, the advanced CD1000, which includes a transmitter and a receiver – which can also be used as a non-contact voltage indicator – negates the need for any other additional electrical equipment when detecting cables. This saves valuable time and money.
Using advanced technology, the CD1000 allows the operator to change transmission coding, so up six different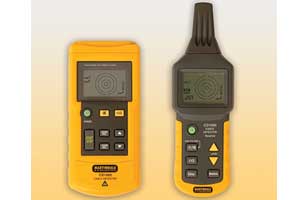 circuits to be tested, safely and accurately, at any one time! Results are then be displayed both visually and audibly. Different code settings can be easily changed using an integral switch, without the need to dismantle the unit, making the CD1000 the perfect choice when using multiple transmitters.
Featuring an auto sensitivity setting, which Martindale suggest meet most requirements, the CD1000 also allows for a manual sensitivity adjustment, to meet any personal preferences.
Complete with an LED torch for work in dimly lit environments and a self test facility for additional safety, the CD1000 is a welcomed addition to the existing range of exceptional safety products available from Martindale Electric.
The CD1000 comes supplied with a set of TL47 test leads with crocodile clips, earthing rod, 9V and 1.5 Alkaline batteries and a case with full instructions, making it ready for immediate use.
All Martindale Electric products come complete with a two year warranty.
For more information about Martindale Electric please click here