As sole distributor, Switchtec has introduced the Arnocanali range of Earth & Neutral distribution blocks. Used to distribute Earth, Neutral & Power to smaller or numerous cables within panels, the distribution blocks reduce installation time and keeps cable usage to a minimum, providing time and cost savings over traditional methods.
Aimed at panel builders for use in BMS and control panels, DIN rail mountable Arnocanali distribution blocks comprise of a single pole connection available in 7, 11, and 15 way connection points per pole and are rated up to 750V.
The versatile Arnocanali distribution blocks offer many benefits and design advantages. First and foremost, they can be used to establish an electromechanical connection between cables, making it possible to manage multiple cable connections at one point in the panel. They are also available in 3 colours, Green (Earth) Blue (Neutral) and Grey (Power). They are supplied with IP20 touch proof terminals that have removable covers to make installation easier, and also easier to replace once installed. DIN rail or surface mountable their design is low profile and compact which saves space within control panels; they make it possible to distribute power in a compact space without additional accessories. They are suitable for use in extreme temperatures from -5oC to +85oC and can accept cable sizes up to 16mm2.
Manufactured in Italy, the Arnocanali distribution blocks are manufactured to a high standard unlike lesser quality, similar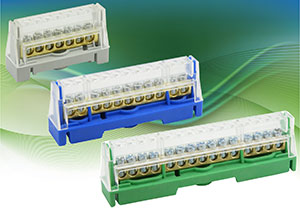 products available in the marketplace. They use high-grade brass components making them highly resistant to thread stripping and providing excellent cable retention properties.
The Arnocanali distribution blocks available from Switchtec are CE and IMQ approved, RoHS 2 compliant and manufactured in accordance with EN60947 and EN60998. All products are available from stock or on short delivery times. Switchtec field sales engineers are available to provide product selection and general design assistance.