At Metway Electrical Industries we have several different Lighting Control options to cater for most lighting control requirements. The following summarises the benefits, applications and criteria of each option to allow you to choose the most suitable system. The following three systems all utilise dual latching luminaire outputs complying with LIF requirements and preferred industry practise. More details are available on our website or by phone from our sales office. Metway can also quote based on lighting layout drawings and a specification. This would include all Lighting Control Modules, presence detectors and leads, producing a fully costed solution.
WHICH SYSTEM TO CHOOSE?
Metway Connection Centre (MCC)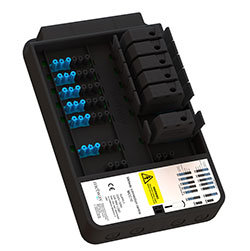 Standalone system. Quick and easy to install with usually no commissioning required
8 output and 10 output variants available.With two separate presence detector inputs. Units can also be wired in parallel to have multiple boxes controlled together (providing these oblige to the Amperage restraints)
Suitable for dimming and non-dimmable applications.Different presence detectors and luminaire leads can be used for either dimming or switching arrangements
Presence or Absence detection.We can supply presence detectors with additional cabling and plug to allow the introduction of an override or absence switch.
1 or 2 channel applications.The MCC can be installed to accommodate all the outputs switching together or split to have two halves switched separately (8 way MCC split to 2x 4 way & 10 way MCC split to 2×5 way) see MCC section
Standalone DALI ConnectionCentre (MDCC)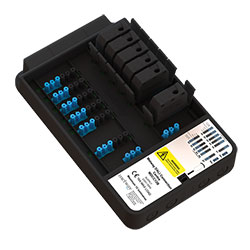 Use with DALI Ballasts luminaires.This system communicates with each luminaire via the DALI protocol to allow individual grouping of each light fitting depending on the desired layout. For example this allows for fittings nearest interactive whiteboards to grouped and switched separately.
Graduated Dimming.This allows for rows of luminaires to dim at different percentages parallel to the window (see example) and reduces the need for a photocell per row of lights.
Future Proof.Via the installation of network cabling and minimal additional control equipment this option can become a fully communicating system.
Plug and play installation.Simpler installation with all items supplied with plugs for quick and accurate installation.
Simple on site configuration.The individual set up of each room can be done by the installers using a simple programming remote to group the luminaires as required. (Metway commissioning also available).
Metway Fully Addressable System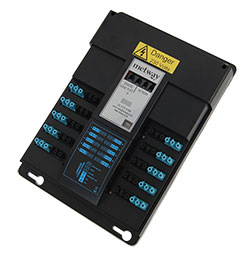 10 individually addressable outputs. Each Lighting Control Module has 10 outputs and 4 switch inputs to cater nearly every required scenario.
Fully communicating. This allows occupancy information to be shared between the presence detectors to keep any essential lighting on if required.
Can communicate without the need for DALI ballasts.Although the system will normally. communicate using the DALI protocol it can also work using its own open network allowing the use of DSI ballasts or switching only luminaires.
Emergency Monitoring. If required this system allows for emergency monitoring with fault reporting.
Head End P.C. available.For integration with a building management system.
Commissioning. Commissioning will be carried out by a Metway Commissioning Engineer.
01273 431600