Following on from the success of its pioneering range of next generation MightyRods PRO Cable Rods, C.K has launched the new C.K MightyRods PRO Toolbox Set 3.3m (T5419).
A compact handy toolbag size, offering efficient cable installation in confined spaces, the new MightyRods PRO Toolbox Set also has the added benefit of 100% splinterproof rods, thanks to their unique SplinterShieldTMcoating.
Supplied in a storage tube sized to fit most tool boxes and bags, the set is easily transported and includes: 10 x 3cm rods, which, when combined, creates a total length of 3.3m, offering a convenient and robust alternative to carrying full length rods.
The 6mm rods feature SplinterSHIELD, a significant advancement in cable rod technology and a European first, the durable, 100 per cent splinterproof coating fully encases the inner fibreglass rod to prevent harmful and painful splintering.
'Mighty-Fix' zinc plated steel connectors feature a slimline design and are glu
ed, indented and crimped, making them able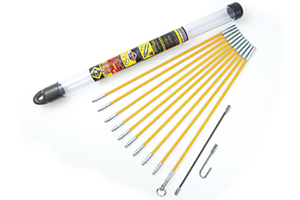 to withstand up to 275kgof tensile pull strength.
For extra functionality the set also includes a 5mm thread adapter and cable hook, a 190mm coiled steel flexi lead and a mini eye ring, providing all the solutions needed for even the most difficult of cable routing tasks faced by electricians.
Graham Godfrey, Brand Manager at C.K tools, commented:
"We are always looking to make an electrician's job easier and safer. With this in mind, the new MightyRods PRO Tool Box Cable Rod set encompasses all of the fantastic features of our full length MightyRods PRO kits in a scaled down size. With an easy-to-transport design and the ability to store this set in your existing tool box, they'll always be close at hand when out on a job."
For further information about The new C.K tools MightyRods please visit www.cktools.com or call 01758 704704