George Rafferty, Chief Executive of NOF Energy who will open the conference in Glasgow next month
More than 300 energy sector professionals will attend a major conference and exhibition in February to hear about diversification opportunities and significant developments within the industry's supply chain.
The Scotland Supply Chain Conference and Exhibition, organised by UK energy sector business development organisation NOF Energy, takes place on 25th and 26th February at the Crowne Plaza Hotel, Glasgow.
Now in its second year, the event, which is supported byScottish Enterprise, provides delegates the chance to hear from some of the energy industry's key players from across the oil & gas, offshore renewables and nuclear sectors.
Industry update speakers include Matt Abraham, Supply Chain & HSE Director from Oil & Gas UK, Sylvia Buchan, Supply Chain Manager at Oil & Gas Authority, Neil Douglas, Director at BVG Associates, discussing offshore wind, and Glen Little, Industrial Advisor from the Nuclear Industry Association.
A major focus of the conference will be diversification and the opportunities for supply chain businesses who can transfer existing skills, products and services into complementary sectors.
Among the speakers on this subject will be Charlotte Taylor, Energy Specialist from Scottish Enterprise who will talk about using oil & gas expertise to win business in other sectors.
In addition, Stephen Thompson, Business Development Director, Renewables at Global Energy Group, will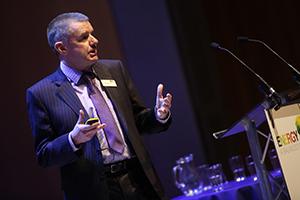 discuss how the company transitioned from oil & gas into offshore wind, alongside Stuart Olden, Business Development Manager, from Williams Advanced Engineering who will tell delegates about his company's journey from Formula 1 motor racing to offshore wind.
Five key sessions take place in the afternoon highlighting supply chain opportunities with companies in oil & gas, nuclear and offshore wind including presentations from Dounreay, Hurricane Energy,Inch Cape Wind Farm – Red Rock Power Limited, Shell and SSE Renewables.
Alongside the conference, which is sponsored by Allied International, the Scotland Supply Chain event will feature an exhibition of products and services from some of the UK's leading energy sector suppliers and will also be a hub for networking.
The evening prior to the conference and exhibition will also provide an important networking opportunity with NOF Energy hosting a reception on Monday 25th in the exhibition area.
George Rafferty, Chief Executive of NOF Energy, said: "There is a wealth of skilled and experienced supply chain companies that have the potential to grow their operations through diversification. Energy presents real opportunities for both companies already operating in the industry and for those with transferable products and services from other markets that can be applied to the sector.
"The Scotland Supply Chain Conference and Exhibition is the ideal platform for businesses keen to enter or expand their presence in the energy sector. We have brought together key people from across the industry who will provide both a valuable insight into developments in the sector, but also how they are expanding their own supply chains. This, alongside the networking opportunities with hundreds of delegates and exhibitors, ensures attendees will see the benefit of exploring diversification."
To secure a delegate place at the Scotland Supply Chain Conference or to find out more about exhibiting and sponsorship, visit http://www.nofenergy.co.uk or contact Philippa psmith@nofenergy.co.uk