Established retailers such as Amazon and John Lewis are making a big splash in the home improvement and maintenance market. They have created similar services – where consumers can book a wide variety of tradespersons (e.g. plumbers, electricians, decorators, gardeners etc.) directly from their website, app or call centre.
The primary selling point of the concept is that all considered tradespersons are subject to a rigorous recruitment process – which includes interviews, background checks and a thorough review of their past work. Since the relevant due-diligence gets done by the retailer, it takes away the agonising stress individuals usually experience when trying to shortlist the best local tradespeople.
Figures certainly show that this type of service could prove to be very handy, as 41% of Brits shockingly admit to not knowing where to go when trying to find a qualified tradesperson, according to research by energy giant 'British Gas'.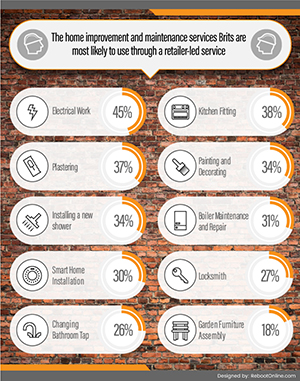 Interested in property upkeep, housing agents Sellhousefast.uk analysed the latest findings from 'Eureka!', who surveyed 328 UK homeowners to better understand the home improvement and maintenance jobs they would be most open to arranging through a retailer-led service.
Sellhousefast.uk found that 'electrical work'(45%)is the property enhancement aspect that Brits are most willing to organise via a retailer-driven scheme. Thereafter, homeowners think 'kitchen fittings' (38%)and then, 'plastering' (37%)are the next bestsuited home upgradesto arrange with a tradesperson froma reputable brandsselection of contacts.
Fascinatingly, a considerable proportion of Brits are confident enough to trust a brand to match them with the right professionals to carry out expensive refurbishments such as adding a 'new shower' (34%)and conducting 'boiler repairs/maintenance' (31%).
With the huge popularity of Wi-Fi enabled thermostats, appliances, lighting and security systems to facilitate a 'connected' living environment– 30%of households would use a retailers service to seek outa competent individual to set-up a full smart home installation.
Contrastingly, Brits would be least enticedto use a retailers programme to find capable tradespersons who can assemble 'garden furniture' (18%).Slightly above, just 26%would use a retailer to discoverthe right professionalsin their area who can adequately change a 'bathroom tap'.
Furthermore, Sellhousefast.uk also sought to identify some of the biggest apprehensions British consumers have about utilising a retailers home improvement and maintenance offering to search for a tradesperson(s).
It was revealed that not knowing the tradesperson (42%)who would be called out, is the main obstacle stopping Brits from harnessing a retailers home solutions initiative. Subsequently, 39% believe using a retailer to source a tradesperson, is likely to end up being more-costly than exploring conventional routes to acquire them.
A significant amount of Brits are worried about how they would go about resolving any issues that occur after installation (34%)with the tradesperson recommended by a retailer. Although consumers need not to emphasis on this too much – John Lewis for instance, has a one-year guarantee in place for their own scheme.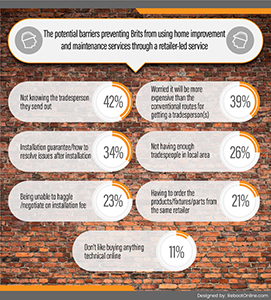 Moreover, 26% are sceptical about a home improvement and maintenance service not having enough tradespeople local to their respective living location signed up to a given retailers database.
On the other end, 11%will not entertain the idea of such a service as they simply don't like buying anything technical online. 21%of homeowners hold reservations because of the belief that a tradesperson from a home improvement and maintenance programme will only do the job in hand if the products/fixtures/parts are specifically from the retailer they got hired through.
Robby Du Toit, Managing Director of Sellhousefast.uk commented:
"Searching for a tradesperson that is dependable can often feel challenging. With well-known retailers now allowing their customers to find a desired tradesperson through them, it represents a helpful and exciting new service. Especially, when the tradespersons involved in the schemes are extensively vetted to ensure their work can consistently be completed to a very high standard. This research certainly highlights the property improvement and maintenance jobs British homeowners are at present most likely to consider and use such an initiative to sort out. Looking forward, people's attitudes are only set to become more positive towards the service as they gain a much better grasp of it".