There is no question the coronavirus pandemic has been tough for the trade, with many suffering delays and cancellations to jobs. As the focus shifts to how the country recovers, national builder's merchant Jewson is launching a series of FREE online learning sessions to help people get back on track. Covering everything from how to win more business, to understanding building regulations and even promoting your company online and on social media, the six-part series is designed to reduce hassle for tradespeople and get them back on the tools.
Andrew Cushing, Jewson Customer Director, said: "We want to do all we can to support our customers and the wider construction industry. We've been working hard to make sure they can get the materials and supplies they need, but we know that's not always enough. Our Toolkit Talks are a brilliant source of information to help people get ahead. We're tapping into experts from across the trade to bring people the best advice possible that will make a real difference to their day-to-day lives."
The Toolkit Talks are based 100% online. All tradespeople have to do is register on the Jewson website and they'll be sent a link to watch the sessions. No paperwork, no trick questions, just a direct link to the experts – it couldn't be easier.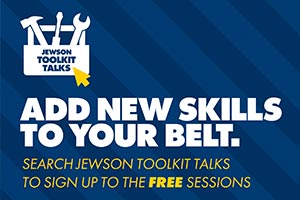 The first session will be broadcast live on Friday the 10th July and will be delivered in partnership with the team at Build Aviator. Hosted by Andrew Ellis, Design Estimator Director and Tim Myatt, Regional Sales Manager, it will cover everything from the benefits of using Build Aviator's estimating software, to how tradespeople can make a positive impression on site to bring in more work.
Andrew Ellis said: "We are delighted to collaborate with Jewson on the first Toolkit Talks session and are looking forward to sharing some of our expertise. Build Aviator can not only help tradespeople generate precise material lists and quotes for their clients, but also proves invaluable when it comes to retaining work and generating new leads – all of which will be discussed during the session."
Subsequent talks will explain everything tradespeople need to know to pass building regulations every time, how to tackle the "sensible stuff" including tax returns, accounts and expenses, setting up a new business, promoting your company, and there will be a special panel discussion focusing on putting brain and body first.
Anyone interested in joining the sessions live can sign up here to receive a link, or they will be made available on demand here.