Introducing The Lighting Designer (TLD), a new cloud-based design and specification tool that is set to revolutionise the electrical industry and increase business profitability by producing technically correct and compliant designs in a matter of minutes.
Created by the team behind the multi award-winning software, The CEDIA Designer (formerly known as The Cinema Designer), TLD is the only software in existence to bring together electrical design, lighting control systems and lighting fixture specification. This allows professionals from different fields to create detailed technical designs and ensure a smooth collaborative approach on projects.
"The industry is seeing that end users are putting great emphasis on lighting design, meaning that this segment of the market provides a great opportunity for electrical contractors," said TLD inventor, Guy Singleton. "Knowing how long it takes to design a lighting scheme inspired me to develop TLD. I've been working on the software for three years and am now excited to launch it and see it change the way in which electrical contractors work."
Lighting design tends to require input from designers, electrical contractors, M&E engineers and technology integrators. While lighting designers focus on fixtures, colour temperature and colour rendering indexes, electrical contractors and M&E engineers understand the mathematics and the requirements for electrically correct and safe electrical systems. Meanwhile, technology integrators deal with lighting control systems, installation and specific lighting control systems.
TLD has been created to pull these three disciplines together, making it the only software available that covers every element of a lighting design.
To start a new project, users have the option of importing their lighting system programmes or manually inputting the information into the software. From here, the user works through an easy step-by-step process of selecting fixtures, drivers and cable lengths. TLD has developed a large catalogue of fixtures, however, there is the opportunity for users to build their own library of fixtures by adding new additions to the software. Once all information has been entered, TLD works out how many modules are required and the panel locations, and automatically designs CAD drawings.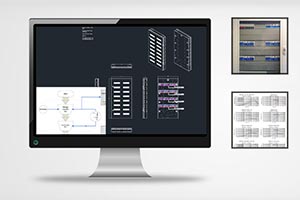 TLD's PDF output includes everything from load schedules to photometric data, specification cut sheets to CAD drawings, a bill of materials and much more. It pulls in the manufacturer information of the panels, drivers, ballasts, interfaces and modules – creating a presentable document that's full of data and panel diagrams in only a few seconds. The pdf can be shared with the lighting designer, technology integrator and M&E engineer so that everyone working on the project has access to the same information.
Interoperability and compatibility issues are also taken care of. TLD eliminates the possibility of lighting design mistakes by specifying incompatible drivers and fixtures, incorrect IP ratings and inaccurate load calculations.
Using TLD will ensure that professionals know exactly what is required of them when designing, installing, testing and inspecting any project and provides confidence that the system is both electrically correct and compliant.
The TLD team is hosting regular demo webinars. To register for a session, email marketing@thelightingdesigner.com. For more information and to create a TLD account, visit www.thelightingdesigner.com and www.youtube.com/watch?v=OedKpy6Oeiw