Red Arrow are working towards a robust and positive future with plans to transform a new 55,000sq ft facility, designed with excellent customer service in mind:
Equipped with viewing galleries, full support and technical advice all under one roof

Higher quality products with unique design features and competitive benefits

Putting the emphasis on quality, supported by a full ISO9001 accredited UK HQ with NPD, testing, design, technical, stock management and customer service for products
With availability, quality, reliability, performance and trust at the heart of the business, Red Arrow are focused on getting their products to market faster, while offering a new experience to their customers. And with a Wholly-Owned Foreign Enterprise (WOFE), the lighting manufacturer and distributor can control their own processes and product development, differentiating themselves from their traditional competition and holding a stronger position in the industry. While also allowing them to speed up the introduction of new products to their customers. It's a win-win.
Quality-first mindset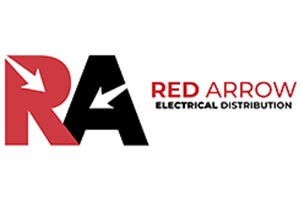 In an incredibly competitive marketplace, the team at Red Arrow are expanding their service by implementing their Product Development initiative. Aimed at bringing improved quality and unique design features to their products, this new initiative will give customers a commercial advantage for their clients, installers and end users. And with an extra ongoing technical programme for the entire team, the lighting manufacturer and distributor is planning to upskill their workforce, allowing them to train customers in the best use of the products.
Working towards a quality-first mindset, Red Arrow achieved ISO9001 certification in January this year, with plans already advanced for ISO14001. We caught up with Graham Lewis, Sales Director, to find out why their new facility will transform the whole look and experience of the new brand, and how their plans for the future are unfolding…
Designed for customers
Currently standing as an empty shell, the new facility will be transformed into a state-of-the-art warehouse and office space, designed with electricians and wholesalers in mind. 'If all goes to plan, our sales, customer service, marketing, technical and finance teams will all be based in the new building, together.' Graham revealed. 'This will allow us to offer a co-ordinated customer experience. And with facilities such as the dedicated lighting scheme design, we can take out the guesswork when choosing the right products, while also providing full calculations, support and tech know-how. All under one roof.'
With plans to move stock from their existing third-party warehouse, Red Arrow's new facility will feature viewing galleries to showcase the latest products in operation, alongside practical demonstrations, testing facilities and technical support areas. 'At Red Arrow, we are committed to creating a newly-energised company. Building on the old strengths of the business, the overall experience of Red Arrow is transforming,' Graham told us. 'We are also changing our logistics processes – by moving away from Third Party Logistics, we can gain control of our own stock, allowing our customers to minimise their stock holding and maximise their profitability.'
The re-branding process is continuing to grow at an astonishing speed – with increased social media activity, a new website and a fully redesigned product guide coming soon, Red Arrow's new look reflects their goals for the future. Making it easier for their customers and installers to see exactly what Red Arrow's products do with new data, better packaging and improved customer service, the business is working through the current climate with positive plans and a resolute commitment to their customers.
About Red Arrow Electrical Distribution
Red Arrow Electrical Distribution is a streamlined, quality-focussed manufacturer and distributor of competitively priced lighting and electrical products to the wholesale industry. We are committed to providing an excellent sales and customer service experience, whilst providing a wide range of quality products at very competitive prices. We build strong, long-term relationships with suppliers ensuring quality and continuity of product supply and ongoing product development.
For sales enquiries, please contact Red Arrow:
0114 279 8999
For further media enquiries, please contact Nutcracker Agency:
0203 941 0305