Following the successful launch of its compact Combi actuators range in 2019, ABB has further extended its portfolio with its new Standard and Professional versions, to offer the widest range on the market.

Based on its vision to offer next generation switching for increased comfort and versatility in both residential and commercial applications, ABB has enhanced its KNX Switch Actuator portfolio with updates to its Standard and Professional ranges.
Oliver Iltisberger, Managing Director of ABB's Smart Buildings business line said: "Our main priority is to ensure that our technology solutions are enablers for our customers. They need to be user friendly but, more importantly, as we continue with our Smart Cities' Mission to Zero initiative, they also need to optimize energy usage. That's why we've extended our range to offer three different options – from Combi for residential installations where space is at a premium, to our latest Standard and Professional versions – to offer the most comprehensive choice in the market."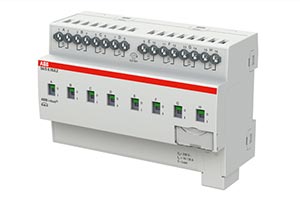 The new ABB i-bus® KNX Standard Switch Actuator range offers the largest and most universally used selection of components to cover all standard switching requirements in today's commercial projects.
With a broad range of devices available with different outputs, from 2- to 12- fold, customers can now find a switch actuator that is a perfect fit for their application, delivering further savings on costs in the distribution board.
These 12 devices are ideal for use in modern buildings and provide cost-effective and time-saving commissioning, with template pages and central functions for all outputs. Screw-head terminals make installation simple and no tools are required for DIN-rail assembly and disassembly.
ABB i-bus® KNX Professional Switch Actuators offer devices with high switching capacity and enhanced energy management functionality and are ideal for use in high-end applications. Suitable for large commercial projects, the series includes eight switch actuators, designed for reliable switching of high and capacitive loads of up to 20 A C-Load.
Reinforcing ABB's commitment to help customers optimize energy usage, the Professional range features four enhanced load and consumption control functions, for measurement, monitoring, metering and management. This provides total transparency over energy consumption and availability at the lowest level, so that flows can be controlled without any loss to availability, function or comfort.
When Professional switch actuators are parameterized, users can program different settings or scenes to make sure that they are using energy in the most efficient way. For example, lights can be switched off when they're not needed to cut down on unnecessary energy use and ultimately avoid higher tariffs. Alternatively, users can switch off certain loads while using battery-based power, to reduce obtaining energy from the grid.
"We are constantly looking for ways to help customers to increase comfort and versatility, without compromising the end-user experience. With these latest additions to our switch actuators range, we now offer the largest portfolio on the market, with a solution for every type of building. More importantly, we are giving customers the tools they need to ensure buildings only use energy when and where they need to," added Oliver Iltisberger.
For similar articles visit our features section