Until very recently, Personal Protective Equipment (PPE) legislation has been defined by a UK law, which was based on an EU Directive introduced 25 years ago. But as research, development and technology has moved on, thankfully, so has EU Law.
The old PPE Directive has now been replaced by the new PPE Regulation (EU) 2016/425, which came into force on 21 April 2018 and must be fully implemented within 12 months. So what does this mean for health and safety in the electrical sector?
Let's start by considering the term 'regulation'. This is a bit of jargon busting exercise, as understanding the difference between a directive and a regulation is key to how businesses need to respond. As a directive, it was up to each European Member State to look at the guidance and goals set down within it and determine its own PPE legislation to meet them. As a regulation, PPE safety rules become standardised under a consistent, legal binding force throughout all European Member States. In layman's terms – it's essential for companies to adhere to regulation.
New obligations throughout the supply chain
Under the old directive, the focus was on manufacturers. One of the changes in the new regulation is that the responsibility for compliance and governance now clearly incorporates the whole supply chain.
This means anyone who is involved in any aspect of the supply and distribution of your PPE must take appropriate steps to make sure it complies with the regulation and they must keep all relevant documents for at least 10 years.
This is fantastic news for reputable suppliers, customers and end users alike as it makes it much harder for non-compliant imports and sub-standard products to make their way into the market. This can only be a good thing for the safety of your team.
What it means for existing PPE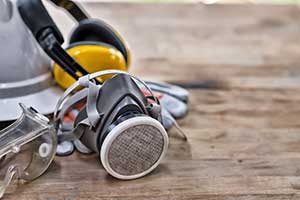 A question a lot of clients have asked, is whether or not, under the new regulation, their business is required to replace all of its PPE. However, at this stage companies don't need to worry about this as there are clear and realistic timelines in place. From April 2018, all new certified PPE must be used under new PPE manufacturing standards and carry a new EU-Type Certificate, however there's also a one-year changeover for suppliers – which means any products already manufactured (and carrying the old EU Directive EC-Type Certificates) may still be supplied/sold from existing stock until the new law comes into full effect on 21 April 2019.
Even then, any equipment a business has already bought, which carries a certificate issued under the Directive, will still be valid for use until 21 April 2023, unless the expiry date for the certificate is earlier or, as has always been the case, the product needs to be replaced due to wear and tear or damage.
So, even if a business bought a stock product with an old Directive EC-Type Certificate on 20 April 2019 (the day before those products can no longer be sold unless they're re-certified), companies would still be able to use them for up to another four years.
What do businesses need to do to prepare?
To ensure that PPE across the business is fully compliant in time, it's best to opt for a supplier that can provide clear guidance and expertise – meaning you won't be caught out when the changes come into place and the business' health and safety is fully compliant in advance. Speak to your supplier and ascertain how aware they are of the new regulations. When you're choosing a supplier, opt for a brand that is researching and introducing the best possible materials and manufacturing techniques to make sure their PPE clothing and equipment is as safe as possible.
For free advice on the PPE changes, you need to implement to ensure Arc Flash safety, speak to a sector expert by calling +44 (0) 1482 679 600 or visit http://www.progarm.com/