The Hultafors Group Adds Hellberg Safety PPE products to its premium brand portfolio for professional tradesmen and women.
With over 50 years experience in the PPE industry, the Hellberg Safety specialist equipment includes highly advanced hearing protection products, face protection and communication solutions for personal protection on site.
From face guards, helmets and passive hearing protection with up to 3 levels of protection from l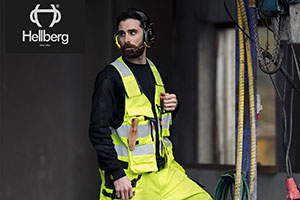 ow to extreme noise, Hellberg also supply secure electronic hearing protectors to suit different work environments.
Peter Dumigan, managing director of the Hultafors Group UK says: "Hellberg PPE products complement the Snickers Workwear and Solid Gear Safety Footwear product portfolios so well – in particular the newly launched Snickers Workwear ProtecWork Heat and Flame Protective Wear. The Hultafors Group now provides the UK market with an even more extensive range of EN-accredited, top quality premium brand products, ideally suited to protect the personal wellbeing and safety of the discerning professional tradesman and woman".
Getting information on the new Hellberg Safety PPE product range is easy – call the Hultafors Group UK Helpline on 01484 854788 or checkout the website www.hellbergsafety.com