During 2022, Recolight has been working hard to help get sustainability and climate action higher on the agenda.
In January they set a target of reducing their carbon emissions by 10% in 2022.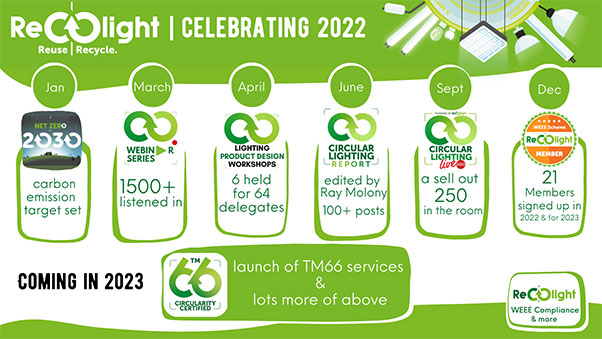 In March their 2022 webinar series started. Topics covered included "How to be a sustainable lighting manufacturer", "Remanufacture of lighting equipment", and "Six lights for a sustainable future". Hosted by Ray Molony, they were attended/listened in by over 1500 delegates.
In April their first ever training workshops were launched "Lighting product design for a circular economy". Developed and delivered by Simon Fisher of F-Mark, the workshops ran on 6 occasions with 64 delegates, including two company-specific events.
Recolight launched the Circular Lighting Report in June. Edited by Ray Molony, it is a dedicated, independent information channel covering all matters related to sustainability for the lighting industry. In six months there have been over 100 posts, and 1500 followers on LinkedIn.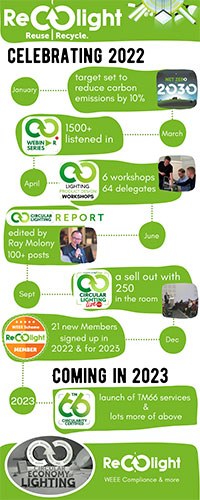 In September Circular Lighting Live was a sell out success with 225 delegates, 25 panellists and speakers, and 15 corporate sponsors. The packed agenda covered: EU and UK legislation, environmental metrics, including assessments of circularity (TM66), embodied carbon (TM65), environmental product declarations, life cycle assessments, and practical discussions included how to encourage more remanufacture and reuse in the lighting sector.
During the course of the year 21 companies joined the Recolight WEEE scheme for compliance in 2022 and/or 2023.
Commenting on the year, Recolight CEO Nigel Harvey said "I am thrilled by the way the Recolight team has helped to drive sustainability up the agenda for the lighting industry. And the response from the industry has been just as encouraging: we have seen more specifiers, producers and customers putting sustainability at the heart of their strategies."
"My one disappointment is that despite setting a target to reduce the carbon emissions of our waste lamp collection service by 10%, they actually increased slightly. That was caused by a highly inefficient retail project which required us to collect small volumes from a large number of stores across the UK. We are determined to do better in 2023, and will set ourselves another ambitious target."
"And 2023 is already looking very promising: More growth in our WEEE scheme. Launch of TM66 services working with industry expert Helen Loomes and Simon Fisher. Another webinar series. Circular Lighting Live 2023 in September. And a new Re-use & Remanufacturing conference in April."
Visit the Recolight website www.recolight.co.uk or follow Recolight on Twitter @Recolight