Redbacks Cushioning Limited, developers of the award winning, 'Leaf-Spring' cushioning technology offers a range of products to help protect the knees and body from damage caused by kneeling
The Redbacks Pocket Kneepad, specifically designed to fit work trousers, features a flexible leaf-spring held within a thermoplastichoneycomb matrix which unlike foam or gel ensures a high compression rate and 100% recovery to its original shape.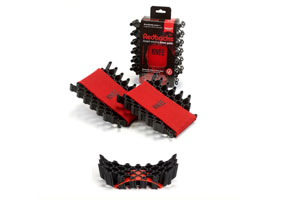 This combination and the inherent 'memory' aspect gives unique controlled weight distribution; the deceleration of pressure protects both the knees and body from potentially damaging impact forces and gives long lasting, anti-fatigue support; traditional foam or gel solutions create point-pressure which focus the force or energy to a point which is then transmitted back into the knee joint and beyond.
Easy to slide in and curved to fit comfortably around the knee, the water-resistant pads which conform to CE EN14404 Type 2 Level 1 help to protect against possible injury from sharp objects, wick away sweat and provide thermal protection from warm or cold surfaces; they are machine washable at 30°c and 100% recyclable.
For more information visit www.redbackscushioning.com email: sales@redbackscushioning.com or telephone: 01327 702104