These new ALLroundWork Jackets and Gilets arejust what the name suggests – delivering a great all-round performance on site with a Ripstopwater-resistant outer fabric and a coated inner fabric for extra durability.
They're wind-resistant too and all have the features and functionality that you'd expect in Snickers Workwear clothing.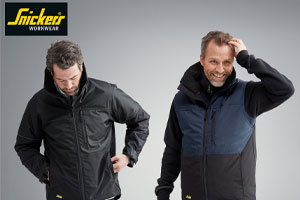 Designed foroptimum comfort and flexibility when you're on the move, they're great-looking working clothes that will keep you feeling comfortable wherever you are and whatever you're doing at work in cold and windy weather.
With smart designs and an ergonomic fit, Snickers Workwear ALLroundWork garments are packed with must-have features that focus on functionality and freedom of movement as well as using innovative fabrics that deliver long lasting protection.
There's also a range of Base- and Mid-layer garments plus accessories like gloves, hats, face warmers and beanies to ensure that every part of you stays dry and warm.
For more information on Snickers Workwear's NEW AllroundWork Jackets and Gilets, call the Hultafors Group UK Helpline on 01484 854788, checkout the website and download a digital catalogue at www.snickersworkwear.co.ukor email info@snickersworkwear.co.uk