By George Brickwood, UK&I eCommerce Director at Schneider Electric
In the previous piece in this eCommerce series, we discussed the rise of the B2B eCommerce sector and why the electrical distribution industry needs to properly leverage this developing channel in order to remain relevant in a competitive market. We also talked about the important considerations for effective eCommerce adoption, with a focus on technology.
In the second instalment of this series, we'll look at the next critical component of the eCommerce Ecosystem: people. With the digital economy thriving, so is eCommerce employment, with a 143% growth in individuals hired in eCommerce-related occupations expected in 2021.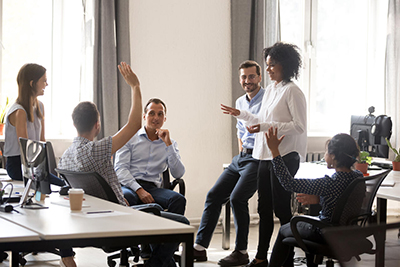 A strong team is required for a successful business, especially when operational change is being introduced throughout the organisation. This article will concentrate on three specific areas: diversified expertise, digital culture, and leadership, in order to provide insight into what is required to achieve buy-in and enable effective eCommerce adoption.
It begins with recruitment
The people in your company are your greatest asset. Your goals and objectives are delivered by the people you hire, and they are also a reflection of your skillset and company values. While eCommerce success is not attainable through simply employing 'all-rounders', useful as they are, it is important to understand the critical skills required to build a successful team of eCommerce professionals. This holds true if you are trying to evolve an existing team so to provide the correct training and skills development to meet new skill requirements. If building an eCommerce team is new to you, then bringing in an expert at this stage will be essential.
Teams are the foundation of any thriving and successful company. Teams need to be 'on the same page' to ensure streamlined operations and a common sense of purpose. Analysts need to understand the marketers, finance teams need to be aware of sales team activity and so on. A poorly managed workforce can create independent silos, leading to a lack of coordination and ultimately a negative impact on results. Managed well, recruiting the right people into a company sets you on the perfect path to business success.
Digital is the eCommerce silver bullet
Traditionally, the continued success of face-to-face interactions within the electrical distribution industry has meant that it has been slow to change and adapt to the demands of the digital generation. E-commerce was often viewed as non-essential, and as such fell by the wayside when it came to dictating strategy. Digital is unanimously the way forward, though half the challenge of implementing an eCommerce strategy is convincing your workforce that digital transformation presents a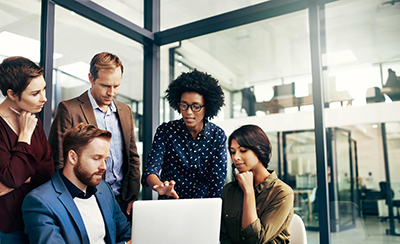 growth opportunity as opposed to a challenging threat. The Sixteenth Edition of the AMA UK Electrical Wholesalers Market Report (2019) stated that adoption of a multi-channel sales approach provides multiple benefits to electrical wholesalers, not only increasing visibility of products and services on offer but widening your customer base and the availability at which your products can be bought.
One of the core benefits of eCommerce is that it allows you to use data intelligently. Unlike an offline distribution strategy – eCommerce lets you use multiple platforms and data source simultaneously to enable strategic and tactical decision making. However, this culture of effectively utilising and seeing the benefit of the access to this type of data doesn't necessarily come naturally, particularly when you're upskilling and transforming long-serving employees. The value needs to be emphasised through education on return on investment, not just through revenue but with advantages such as increased productivity due to the fact customers will have the latest pricing and stock availability visible to them at the click of a button, reducing simple case management.
The importance of strong leadership
Understand the vision, communicate it effectively. The best leaders in eCommerce are those who fully understand the capabilities of an online strategy. While technology is critical to this, understanding the marketing side is essential for converting web visitors into new buyers and new buyer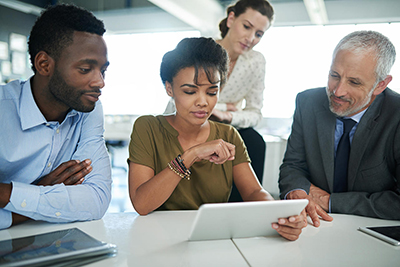 s into loyal customers. It is crucial that a holistic approach is taken, leaders must take into account the short and long-term opportunities and be willing to make decisions for the team.
The transition from tradition in the electrical distribution industry has been moderate. As such, it is all-the-more important that leaders have strong relationships with employees and customers alike. Trust is the foundation of any relationship – displaying assured guidance and, perhaps most importantly, passion in a leadership role is critical to engaging with your team, synchronising efforts and securing buy-in for transformational projects.
Your employees are the cogs that keep the company wheels spinning; they are undoubtedly your most valuable asset when it comes to establishing a successful eCommerce strategy, but they must operate in tandem with the corporate culture and leadership team. Adoption of a digital culture across a multiskilled workforce is a sure-fire way for your organisation to run smoothly. A strong leader is the glue that keeps everything together.