​
Schneider Electric, the leader in the digital transformation of energy management and automation, has announced the launch of its Easy9 Compact Multirow Consumer Unit. The next generation consumer unit complements the existing premium Easy9+ range in order to meet the needs of every household and electrician. It incorporates flexibility, simple installation and ample cable space to easily connect multiple devices and provide peace of mind when it comes to regulatory compliance.
​The new Easy9 Compact Multirow Consumer Unit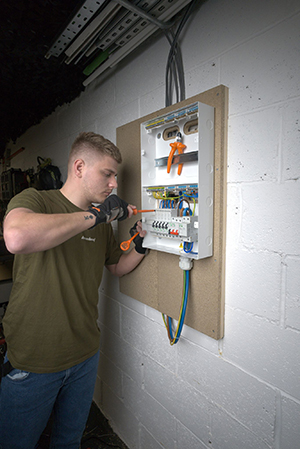 The easy choice for a compact, reliable and versatile circuit protection solution. The fully compliant BS 7671 unit offers flexibility in device configurations, is suitable for AFDD installations, and has additional module capacity for larger installations too. It provides electricians with the ability to tailor the fit to the specifications of any new build or retrofit project, while also leaving capacity to meet the energy consumption demands of the homes of the future.
Easy9 Compact Multirow maintains the range's simplistic and smart design. A low-profile cover allows homeowners and electricians to situate the solution wherever necessary, without having to compromise on functionality and scalability due to lack of space. The curved profile lid, white finish and minimalistic markings ensure the unit blends into its environment seamlessly and meets any aesthetic needs.
Nico Van Der Merwe, VP of Home and Distribution at Schneider Electric, said "The Easy9 Compact Multirow Consumer Units bring unmatched flexibility, safety and reliability to every homeowner in the UK. They have peace of mind knowing that this unit fits the needs of their home now, but also has capacity to meet evolving energy consumption demands in the future."
"For electricians, this next generation consumer unit offers clear benefits. It is easy to install, adaptable for different configurations, has ample cable space and multiple cable entries. It provides them with an easy choice when looking for a reliable and flexible solution in the market," Van Der Merwe continued.
To learn more about the Easy9 Compact Multirow Consumer Unit solution, click here. ​