​
Schneider Electric, the leader in the digital transformation of energy management and automation, is giving away five sets of £1,000 to randomly selected winners who log into mySchneider before 30th April 2022.
New and existing users from the UK and Ireland are eligible to enter the giveaway, which is designed to assist electricians with growing their business – whether that's through a new website, van wrapping, workwear or other marketing materials. Winners are free to choose how they would like to spend the prize money, as long as it is used towards business support.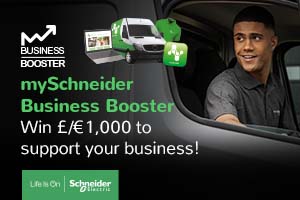 The first winner was announced at the end of February, the next at the end of March, and the remaining three at the end of April.
mySchneider provides the electrical community with one-stop-shop access to product information, tools, business advice and chat support to help set up, promote and grow an electrical business – as well as exclusive discounts and promotions.
Nico Van Der Merwe, VP of Home and Distribution for UK and Ireland at Schneider Electric, said "We are delighted to continue our support of the electrical community here in the UK. mySchneider electricians are the backbone of the electrical industry and we are constantly thinking of new ways we can champion them throughout their journey. I really hope this prize money makes a difference."
To sign up or log into mySchneider, click here. ​