An experienced Midlands energy renewable company is exporting its solar panels to homes and businesses across Europe.
Voltacon Solar, which is based at the Burnsall Road Industrial Estate in Coventry, was established in 2002 and assembles and tests off grid and energy storage systems from its purpose-built premises which has 20kW Solar Array installed and multiple test facilities for solar panels.
Voltacon Solar managing director Stefanos Kandilidis designs the panels which are manufactured in China while the batteries are manufactured in Germany as the company supplies customers with the entire package needed to install solar systems.
Stefanos said they have successfully installed more than 20MW of grid-tied systems throughout Europe over the last 16 years.
"We have residential and business customers in the UK and Europe and until we started selling solar panels, we never realised so many British people had holiday homes abroad," he said.
"We have now sold solar panels to people living in Spain, Portugal, France, Greece and Gran Canaria as well as every corner of the UK.
"African rural communities that live completely off the grid have trusted our business to supply complete photovoltaic systems including solar panels, batteries, inverters and accessories.
"Some of our customers live completely off the grid in farms in Wales and Scotland and rely on the solar panels for their heat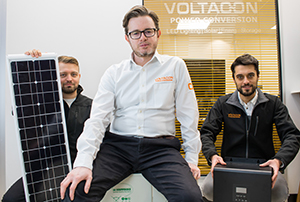 and lighting since they have no means of connecting to electricity.
"Since we started selling solar panels in 2002, the cost of the equipment has markedly reduced which means it is only taking customers four to five years to start receiving the financial benefits.
"The technology is viable and affordable to the public because it isn't as expensive as it was when we started trading in 2002 and with the cost of electricity rising on average by eight per cent each year, more and more of our customers whether they live in the UK or abroad are taking full advantage to switch from fossil fuel to renewable energy.
"From chatting to people, it is often thought it is complicated to switch to solar panels but that is not the case and some of our customers have installed the system themselves after buying everything from www.voltaconsolar.com and we provide an after-care service as well."
Stefanos said Voltacon is also practicing what it preaches since its business unit and his family home are 100 per cent environmentally friendly. Its UK warehouse and showroom are independent from the national grid so their carbon footprint is one of the greenest in the country.
He said: "Our business on the industrial estate is completely self-sufficient energy-wise after we installed solar panels when we moved here four years ago.
"From our own experiences at home, it is a big comfort to know that we can switch on the lighting and use appliances such as the washing machine without it being expensive because our energy supply is self-sufficient."