Since 1924, STIEBEL ELTRON has revolutionised domestic hot water heating, and continues to do so with its launch of its new instant hot water tap, broadening its range of sustainable and energy saving appliances.
With contemporary kitchen trends focusing on simplicity, the tap will be ideal for homes, offices, and public buildings such as doctor's surgeries and dental practices, STIEBEL ELTRON said.
The HOT 2.6 N Premium 3in1 Set provides a fast and convenient way to achieve very hot water instantly, with the equipment able to maintain a constant water temperature of up to 95°C to allow users to quickly prepare hot drinks and food without the waiting time of using a kettle.
Consisting of a space saving automatic boiler which can be placed under the sink, and a 3in1 kitchen tap, the tap includes a mixing lever for cold and hot water as well as a special lever to draw off almost boiling water from the appliance.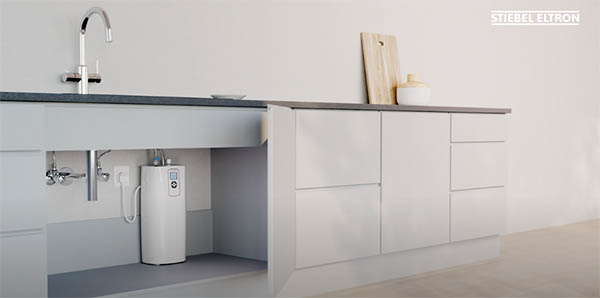 The 'push' and 'turn' mechanisms of the tap lever for boiling water ensures everyday safety, as well as the hot water being drawn off with minimal steam or splashes. Meanwhile, the high-grade thermal insulation also promises low energy losses.
STIEBEL ELTRON provides efficient solutions with green technologies for hot water, heating, ventilation, and cooling, through electricity from the sun, wind and water, the business ensures self-sufficiency, security of investment and a sustainable future.
The manufacturer has always had a clear focus on technological progress, committed to developing and producing innovative products at the highest quality, and this launch marks another step in the brand's range of product offerings, as well as their commitment to improving the environment credentials within the property sector.