#CEFLIVE23 is the biggest electrical event for industry professionals. Taking place at the NEC Birmingham on the 8th-9th of June, it's the place to be if you're an electrician interested in keeping up to date with the latest trends and products in the industry.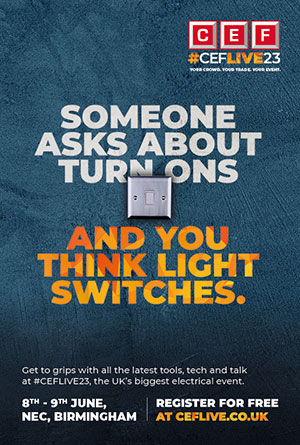 #CEFLIVE23 caters to all electrical folk and with over 85 leading brands including CEF's exclusive in-house brands showcasing their latest products and services, there is something for everyone at #CEFLIVE23. Chris Ashworth, CEF's Managing Director said, "It's always been a fantastic atmosphere with industry leading brands showcasing their latest products to an electrical community who just love getting involved".
And let's not forget the educational aspect of #CEFLIVE23 – because let's face it, the electrical world moves nearly as fast as electricity itself. Stay up to date with the latest trends and regulations with free CPD-accredited TechTalks and you could earn up to three and a half hours of CPD over the two-day event!
But that's not all – you'll get the chance to test out new products before you buy with free product demonstrations and on-stand brand representatives. And you'll receive a voucher for a FREE tool calibration on the day or later at a local branch, a £50 discount voucher to spend at cef.co.uk, and complimentary breakfast rolls, tea/coffee, and lunch on both days.
Don't miss out, #CEFLIVE23 Is a truly useful and enjoyable event for all electricians. Register for free at ceflive.co.uk. Don't miss out on the opportunity to experience the electrical event of the year.