Any commercial building that has an occupancy limit requires certain regulations to be followed in order to promote proper safety. These are known as "life safety systems" and they include things like emergency lighting and exit signs.
These signs must adhere to regulatory codes in order to ensure proper safety standards. Regular testing, maintenance, and inspection are required at certain levels in order to comply with regulatory bodies like the National Fire Protection Association (NFPA). This leads to the question, "Are your exit signs compliant?"
Why Compliance Matters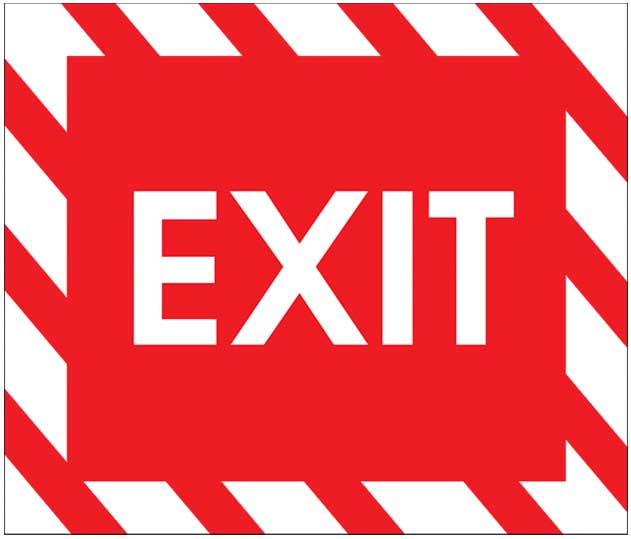 Before you just go off to shop for exit signs from a quality vendor like RS, it helps to know why it is so important to be compliant in the first place. Any business that is open to the public or has a staff of employees has a legal responsibility for the safety of those occupying the building.
Having proper markings throughout the building provides clear directions in the event of an emergency. These markings must be able to function even when conditions are not ideal and potentially chaotic. Emergencies can make people panic but being able to reference exit signs in short order can be a life saver. Think of these as essential tools for the workplace.
Code Requirements
According to the NFPA, exit signs must be staged in either red or green. The finer points of exit sign compliance would go to a local statute, but they typically are made from some form of durable thermoplastic. As the name implies, these can stand up to the immense heat caused by a fire.
To remain compliant, units must be inspected every 30 days. They must also be able to operate as they are designed for at least 30 seconds during inspection. Most emergency lights have some kind of lighting function, so they must be able to stay lit for at least 30 seconds. Moreover, once per year, units are tested for a full 90-minute cycle of operation to ensure that they can hold up under the requirements.
Power Outages
During an emergency situation, it may be possible that power goes out. When there is a power outage in the building, it becomes critical that any emergency signage, including exits, and lighting remain operational for at least 90 minutes during an emergency. Most emergency exit signs will have some sort of battery backup or may draw from an auxiliary generator.
Having a backup power source ensures that anyone attempting to exit the building will be able to see where the exits are. Obstructions caused during the emergency may potentially block these signs from view but proper lighting – especially in darker corridors – should make it possible to still follow the exit path to a corresponding exit.
Emergency Lighting
Emergency lighting is in place to illuminate exit and emergency signs in the event of a power outage. This lighting will keep emergency signage illuminated so that anyone needing to exit the building will be able to visually locate the signage. Emergency lighting will show both first responders and building occupants the path forward in the event of emergency fires, evacuations, and more. Commercial emergency lighting should be properly placed, be in the right color and size, and be tested for functioning in order to adhere to the minimum tolerances.
Following proper compliance guidelines is a must. For the safety of employees, guests, and anyone else in the building during an emergency, something simple like an exit sign can wind up making a big difference. Test exits, signage, and emergency lights regularly to ensure that there is a safe path from the building.