The UK's largest British designer and manufacturer of premium radiators and towel warmers, Vogue UK, win SME News 2018 Midlands Enterprise Award for 'Best Bathroom Heating & Accessories Supplier 2018'.
The SME News Midlands Enterprise Awards recognise 'industrious and hardworking individuals and businesses' located in the Midlands region to reward 'innovation in business practice and outstanding overall performance'.
Highlighting local traders and businesses in the area for driving innovation and maintaining healthy competition between sectors, Vogue UKwere awarded the accolade of'Best Bathroom Heating & Accessories Supplier' for 2018.
Recognised as the "Workshop of the World", the West Midlands is experiencing a great resurgence in terms of local investment, increased manufacturing and development opportunities and to this day, remains one of the leading areas for the manufacture of brass, copper and steel: particularly in the areawhere our factory is based. As a region, the West Midlands continue to play an increasingly pivotal role in the world of product design and manufacturing and Vogue UKare committed to continue satisfying this growing 'anytime, anywhere' generation, and deliver a productportfolio that is reactive, exciting and market leading.
Steve Birch, Sales Director at Vogue UK says: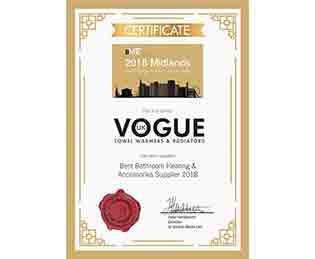 "The UK heating sector has always been a highly competitive marketplace, which drives our designers and skilled craftsmen to continually create a point of difference for our customers, which in turn helps to grow our brand and build on our success."
Steve continues:
"To have true market leadershipis a huge victory and great reward that our designs continue to influence the interior design market and heating trends. As a premium manufacturer, it is our responsibility to look to the future and I believe this universal mind-set at Vogue UKhas been paramount to our success, anticipating market trends and catering for an ever-changing customer profile. We are dedicated to providing our customers with a 'one-stop-shop' for designer heating solutions and by listening to our customers' we have been able to expand, redefine and introduce new products and services that answer new market requirements and/or individual needs.''
Established in 1990, Vogue UK is the UK's leading designer and manufacturer of quality towel warmers, designer radiators and heating accessories in traditional and contemporary styles. Combining fashion and functionality, it offers a portfolio that meets the needs of every interior style, architecture, project brief and budget. By manufacturing in-house,Vogue UKis able to constantly explore new techniques and experiment with innovative designs, materials and finishes which are exclusive to the brand.
For further information on Vogue UK or any of its latest product collections, please call 01902 387000, email info@vogueuk.co.uk or click here