Digital TV: Selecting a receiver
The digital switch over has transformed how we watch TV. Television services are constantly changing to improve and enhance our individual viewing experience. TV is no longer a 'one size fits all' deal, besides exceptional picture and sound quality, recent digital packages offer tonnes of new features to better the user experience. Services such as on-demand viewing, HD channels, live replay and catch-up allow us to interact with content and as a result we can highly refine and adapt the way we choose to watch TV based on our personal preferences.
There are three delivery methods that generate TV signal. These are aerial, cable, and satellite. Your delivery method is dependent on your Digital TV provider. Free view services, that don't require monthly subscription fees, can function on both satellite and aerial. Subscription services that incur a monthly cost vary in delivery method. BT Vision and Talk Talk utilise aerial and phone line, whereas Virgin Media is hosted via cable, and Sky is dependent on a satellite dish.
It usually pays off to select a service whereby TV, broadband, and landline are inclusive with the same provider as this can save a substantial amount of money on installation and service charges. It's always important to shop around to ensure you get the best value for money, however bundle deals are often most cost efficient.
Digital TV via aerial
Otherwise known as terrestrial, TV services that utilise an aerial are often the most cost effective option. All modern TV's come with inbuilt Freeview, however if you have an older model, you can simply purchase a set-top box to plug in. Freeview services offer up to 65 channels and 25 digital radio stations, however this can be upgraded to include sports and entertainment subscriptions, on demand, providing you have an integrated card slot. This is a great DIY option that will enable you to access a limited number of channels with the option to upgrade to stunning HD quality, without the associated price tag.
Whilst analogue TV's can receive strong digital reception from your current rooftop or loft aerial, it's likely that this will need to be upgraded for maximised reception. If an indoor aerial doesn't suffice, and you require a new loft / roof aerial, your local licensed installer should be able to advise you on your best option.
Digital TV via cable
Cable TV, delivers signal via fibre optic cables in the ground and thus delivers a high quality, reliable service for as little as £15 per month, depending on the package, without the need for an unsightly satellite dish attached to your home. Virgin Media and BT are the main providers of fibre optic service in the UK and offer a massive choice of channels, and optimum viewing options for sports, entertainment, films and kids. Cable services specialise in on-demand viewing, allowing users to watch a specific program at their leisure.
Unfortunately, at present only half of homes in the UK can receive cable TV services due to the complexity of installation. Cable subscriptions require a 12-month commitment from the customer, which may be off putting for those in rented or semi-permanent accommodation. Cable offers the most variety, however this can often incur extra cost and so may not be the most suitable option if you are on a budget.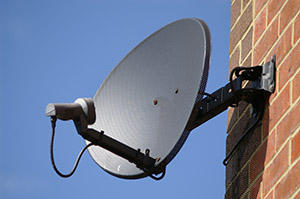 Digital TV via satellite dish
Freesat and Sky are both national providers of satellite TV services in the UK, both of which offer a wide variety of free and subscription based options. Satellite TV services rely on a dish, which can be attached to individual homes or communally if you live in a flat or apartment. Satellite service is available in all locations, including those which don't receive terrestrial service or cable, making it a great option if you live in a remote area. Whist satellite dishes can look unsightly, you can discuss discreet installation options with your licensed installer to ensure it doesn't affect the aesthetic of your home.
As satellite services work using a higher frequency, they have more transmission channels, called transponders. The UK has access to over 200 satellite transponders meaning that a digital satellite will provide stable picture and audio, except for during adverse weather conditions when quality can suffer.
Despite all the options available, your location is perhaps the most important consideration when selecting a TV service provider, as not all digital signals are available nationwide. The Digital coverage checker is a great tool that allows you to review what services are available and most functional in your area – http://www.digitaluk.co.uk/coveragechecker/
Written by Michael Muxworthy, MD at MRM Solutions & LRN Distribution