Bringing advantages and advancements to a common product like cavity floor boxes for installers is a challenge that most brands within the industry face. Olson being a global specialist of standard, specialised and bespoke power distribution units and other electrical accessories, this has been overcome.
Focused on maintaining a high rate of new product launches that present innovative solutions to the market, Olson Electronics have once again expanded their product portfolio further. Using their global strength and market leading position, this now includes a range of cavity floor boxes and plates, providing power and data distribution within the modern office environment.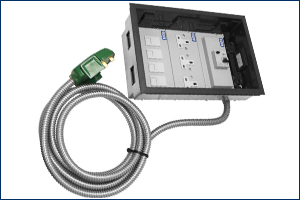 Designed with quality in mind, the floor boxes and plates are made from a highly robust steel construction and utilise a module sized plate system. Available in 87mm and 100mm depths, the new design provides easy access for wiring and installation of accessories with the base being of a single piece construction steel body and each compartment having four entry knock-outs for flexible conduits or cable glands. The internal compartment segregation plates can be moved to suit the module based configuration of the power and data plates used within each unit. The sub-frame allows for fine adjustments to accommodate uneven flooring, with a reversible self-closing lid which is recessed to allow for carpet infill. The durable, robust sub-frame supports the lid in case of heavy and high-traffic environments. Olson offer a wide range of power, data and telecom sockets to meet all the requirements of a raised floor system, including a rarely offered MCB / RCD / RCBO mounting plate. This flexible design enables the boxes to be easily modified to any configuration with ease, even after the initial installation, with a totally discreet final finish.
Although Olson now offer these standard floor box products available to order from stock, these still may not suit requirements for a specific installation. As with their core business for all of their product offerings, they also offer a bespoke and pre-wired configuration service. To accommodate for whatever the scenario, Olson can build fully custom units, eradicating the long-winded fixing and installation time.
The flexibility of their own metal machine shop, onsite paint spraying facility, assembly and testing service is all combined with a knowledgeable and experienced in house design team who can offer support to their customers and quickly propose bespoke solutions. The whole service, from start to finish being in one single location offers a quick manufacture and delivery time to a high quality.
Time is money; indeed, it is and here at Olson we understand the importance of that and not wasting our customers time. We believe that if a product has been made to its highest standard and quality you should not have to replace it until it fazes out naturally as technology evolves and our customers need to upgrade their electrical systems in years to come.
We have a very fast turn around and our dedicated Production Team work around the clock to ensure orders are manufactured on time and shipped out as soon as possible from the minute we receive a purchase order.
Contact Olson further information
+44 (0)20 8905 7273
sales@olson.co.uk
www.olson.co.uk