A recent survey of 1,000 tradespeople by insurance company, Simply Business, uncovered some shocking statistics about tool thefts and tool thefts from vans. It found 1 in 3 have had tools stolen, proving extremely costly and many having to cope with the worrying loss of earnings. In fact, tool theft and loss of earnings costs victims a combined £3,005 on average.
This highlights the need for tradespeople to take steps to boost van security. The Kasp Van Lock & Hasp provides the best protection against common forms of attack on vans, its shackle-less lock enclosed within the walls of the hasp, offering virtually no points of effective attack.
Renowned for being locks you can trust, the Kasp Security Van Lock & Hasp offers some great features and benefits, providing a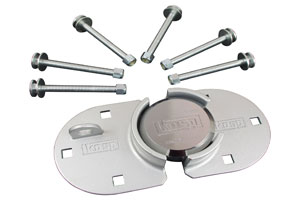 strong and effective solution for keeping valuable tool kits out of the reaches of unwelcome hands.
For example, the Kasp Van Padlock features a chrome plated hardened steel body for extra strength and protection from corrosion. The padlock's shrouded steel shackle, offersmaximum protection against hacksaw and cropping attacks. Other important features include a 6 pin cylinder, for extra protection against picking, plus a corrosion resistant mechanism for reliability in potentially harsh environments.
The Hasp has a zinc plated heavy duty steel construction, to offer extra strength and safeguard against corrosion. The Van Lock & Hasp is supplied complete with fixing bolts for security and convenience. An integral storage bracket offers secure storage of the lock when open. Two keys are also supplied with each lock.
Easy to fit and quick to install, the Kasp Security Van Lock & Hasp is a must for tradespeople looking to protect their livelihoods by installing a strong solution to prevent precious tool thefts from vans.
Call Kasp now for more details about the Kasp Van Lock & Hasp on 01758 704704 or visit www.kaspsecurity.co.uk