Red Arrows factory and new Logistics Facility opens to new deliveries with a focus on their non-corrosion fittings and emergency lighting:
Competitively priced for everyday use in a wide range of applications
New Weatherguard NCF range is designed for environments where operating conditions may be wet, dirty or suffer impact
Emergency lighting range, sentinel, redesigned for more efficiency
Reliable, low maintenance, high efficiency
Red Arrow is gradually bouncing back from recent difficult months with new deliveries of their NCF product, Weatherguard, and their updated emergency lighting product, Sentinel. Both designed with contractors in mind, the electrical manufacturer and distributor are prepared for the post-pandemic industry.
Weatherguard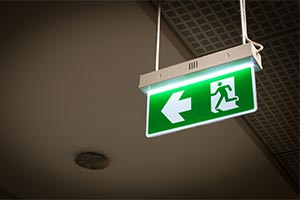 Designed for demanding environments with heavy traffic or for spaces that have tough lighting requirements such as airport car parks and petrol stations, NCFs are guaranteed to last and, when correctly installed, can also increase product life expectancy and light output. Plus, by replacing fluorescent non-corrosive lights with LED NCFs, the end user can expect to yield substantial energy savings of over 50%. Not only saving money but also helping to reduce carbon emissions.
Ideal for workshops, warehouses, factories and storage facilities, contractors can eliminate contamination in light fittings and feel confident that Red Arrow's Weatherguard will perform well in difficult installations. Providing a great source of light for commercial and industrial spaces that are subject to impact and high humidity, Weatherguard is designed for both new installations or to retrofit into existing installations.
Weatherguard can be used in a wide range of areas, such as manufacturing plants, plant rooms, car parks, canopies, loading bays, construction sites, showers and changing rooms. And with a full redesign, its full spec includes:
Slimline 72mm wide body, plus 103mm wide body
Plug and play replaceable LED module
Supplied with high-quality, industry-leading stainless-steel diffuser retention clips as standard
Improved efficacy of 100lm/W
Three-year guarantee (wired for LED tubes 2 years)
Choice of 230V mains voltage, 110V site lighting or body prewired for LED tubes
Full range of emergency options

Sentinel
These days, legislation requires all occupied buildings to have adequate escape lighting to allow safe exit should the mains power fail. And in the UK, escape and exit routes must be lit to a minimum of one lux during an emergency. But with a long service life, it's easy to find the exact size and output desired to balance illumination and energy efficiency with Red Arrow's Sentinel.
Sentinel is a range of emergency fittings suitable for open areas of escape route situations – available in 1W recessed or 3W surface mounted. Full spec includes:
Asymmetric lens option for racking or corridor installation
3 w version suitable for high mounting levels or high output applications, such as racking aisles and warehouses
3 year guarantee (2 years for batteries)
Advanced LiFeP04 battery technology Latest technology long life batteries, Lithium Iron Phosphate technology
About Red Arrow Electrical Distribution
Red Arrow Electrical Distribution is a streamlined, quality-focussed manufacturer and distributor of competitively priced lighting and electrical products to the wholesale industry. We are committed to providing an excellent sales and customer service experience, whilst providing a wide range of quality products at very competitive prices. We build strong, long-term relationships with suppliers ensuring quality and continuity of product supply and ongoing product development. Our 100,000 square foot warehouse allows our customers to minimise their stock holding and maximise their profitability.