For nearly 100 years Crabtree has been leading innovations in the wiring accessory industry. With the Instinct range, we are proud to say that we are keeping this forward-looking spirit alive.
Instinct has all your needs covered, with over 300 new wiring accessories in the range. The range features slimline plates with soft curves, smooth lines and contoured profiles. These carefully considered design details ensure they fit naturally into any environment with a classically timeless look that will serve gracefully. While the operation of every switch gives a satisfying feel of quality and class – the kind of finishing touch that leaves clients happy and impressed with their contractor.
So, if you expect better, Instinct is the way to go. A choice that represents ambition, development and progress. Take a look at some of the innovations and products detailed below and judge for yourself.
Full contact cable clamps
Instinct is the first range of wiring accessories to use this proven technology. These 'No Miss' terminals offer a more secure, more efficient, method of connection. There is no chance of incorrect cable positioning and this terminal design eradicates the risk of cable core damage that occurs with screw terminals.
Upward facing terminals
We have created upward facing terminals throughout the range, all accessible from one orientation, all with an instantly recognisable terminal layout including segregated inline supply and load terminals, nested for convenience. This improves installation time. It's quicker and easier to connect. Cables can be cut to the same length and use less of the interior space. It gives safer and more reliable installation – no twisting or turning of the plate means no loosening of cables that were just terminated.
Fused Connection Units and Switches
Our Fused Connection Units and 20A switches have an improved, unobtrusive, integrated LED switch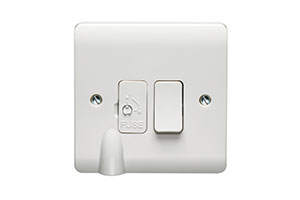 indicator and feature full contact clamps, help to improve cable positioning and retention.
Angled Keystone Modules
Improved Keystone Modules are safer and sleeker, offering flexibility and cable security, with less bend to cables. The variety of modules caters for Data, HDMI, USB, TV, Phone and Satellite applications.
Integrated USB Sockets
13A sockets with double pole switching and Integrated USB charging outlets that meet the latest product standard (BS1363-2:2016+A1) and include automatic charge optimisation to match the corresponding device.
Make a choice for the better, change to Instinct.