Many budding electricians have begun taking their first steps into the industry in the form of trainee schemes and apprenticeships. While the electrical industry is desperate to attract new talent, the competition for jobs is fierce meaning new sparkys will be more eager than ever to nail their first few weeks in the role.
To help up and coming electricians hit the ground running as they start, electrical wholesaler ERF has pulled together a handy guide identifying some of the most insightful and informative resources within the industry.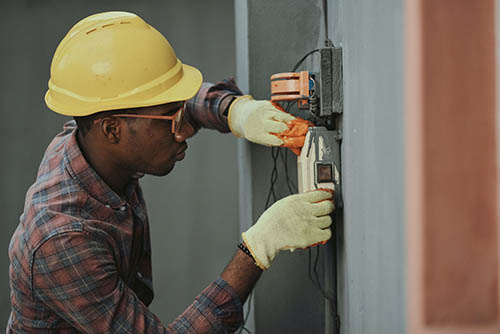 Electrodoc app
Gone are the days where trainees and apprentices have to open up a book to find key information. Electrodoc (formerly called ElectroDroid) is available on iOS and android and is known by many as a portable electrician's bible. From its Ohm's law calculator to its voltage divider, the app breaks down the complexities of electrics into easy to consume information – perfect for young adults who are typically glued to their phones.
People learn in a variety of different ways and this app caters for all capabilities allowing electricians to quickly search for an answer on the go or learn something new about a core topic. Electrodoc is one of the best 'toolkits' any aspiring electrician could carry around..and you never know, you might end up teaching the boss a thing or two along the way.
Talk Electrician's forum
Talk Electrician's forum (TEF) is an online community with more than 30,000 fellow electricians – in fact, you'll do well to find anywhere else with so many sparkys in one place. For this reason, it's a brilliant group for trainees and apprentices to be a part of, with endless advice, information and help at your fingertips. Even if you just fancy a chat with another electrician, the TEF is known for the friendliness of its members.
There are a number of different forums with many threads to read through and get involved in. For example, the 'Question & Answer Board' is the perfect place to ask all of your burning electrical questions and receive replies from people who know exactly what they're talking about. There are as many as 129,309 posts on that forum alone, so never be too shy to ask a question!
Other forums include industry news and updates; one for job openings and apprenticeships; a forum with learning resources to help those who are training… and even a jokes thread. There's a diverse range of content available on the forum and it also provides people with the ability to interact with other electricians in the industry.
Electricians on YouTube
As well as apps and forums, electricians are taking the world of YouTube by storm. The accessible and practical nature of video clips make YouTube an ideal platform for learning, especially for the more technical elements of the trade.
Electrician-come-Youtuber, John Ward is one for aspiring apprentices to watch. JW's videos are full of practical snippets of information, with a slightly more formal tone to his channel. Uploading a new video every week, John puts electrical theories to the test and shows off different experiments and demonstrations.
GSH Electrical is a perfect example of a YouTube channel providing a useful (and professional) overview into the electrical world. With a large following of 69.6K subscribers online, the channel showcases the best practice in testing and installation. Helpful for any beginner, there are practical demonstrations to support learning as well as useful advice from a fully-qualified college teacher. The short, snappy, videos are engaging and cover a range of electrical qualifications to suit different abilities.
N Bundy Electrical is an upbeat and fun YouTube account and is also well worth a follow. It's run by Nick Bundy who is a self-employed electrician with a big personality. His videos are entertaining to watch as well as being informative with their 'how-to" style. Structured as more of a vlogging 'series', this channel accurately documents a day-in-the-life as a sparky – warts and all.
#sparky TikTok
Even electricians can't stay away from the TikTok craze at the moment. TikTok isn't just for funny dance routines and memes, it has soon become one of the best platforms for learning too. The popular social media tool has been designed so that anyone can easily create and upload videos, and electricians are getting involved too; sharing their expertise, jumping on trends and networking.
#sparky is a hashtag worth following, along with 390 million other people who also watch these short videos. For apprentices and trainees, this hashtag on TikTok will make learning a bit more fun and engaging, with a range of more educational clips to funny moments from electricians all over the world.
We can't talk about #sparky TikTok without giving a special mention to Kimmy The Sparks who is an inspiring TikToker that uploads snappy, upbeat videos throughout her work day. She not only offers knowledgeable content on electrical tips, but also helps to bust any myths about female electricians.
The Electrical Show Podcast
Podcasts are another clever way to learn more about a topic without having to concentrate too hard on the content. They are becoming more and more popular, being easy enough to follow whilst completing other tasks, and so they never feel too time consuming.
One podcast all newcomers to the industry show be aware of is The Electrical Show. Every Friday lunchtime, Thomas Nagy discusses the latest and most relevant topics in the world of electricals, often being joined by special guests within the industry and commenting on the latest news.
Each episode is around 20 minutes long and Thomas invites his audience to send in their opinions; sparking up some interesting debates. The podcast also gives out handy advice for junior electricians, such as the problem with short courses and top tips for packing your toolkit… every episode is well worth the listen!