Within the UK market for commercial builds there has been a mixed bag over the years of different cable types used for fixed wiring applications, such as flat Twin & Earth (T&E), Flex, singles in metal or plastic conduit and Steel Wired Armoured cables (SWA). In many instances SWA and cables in metal conduit can be an over engineered installation, not least they are not the easiest and are labour intensive installations.
Where T&E has really been recognised as a cable primarily used for domestic housing and Flexes were designed for use with appliances, i.e., where the cable will be frequently moved in conjunction with the appliance and not in a fixed position, but both have found
themselves being used in commercial fixed wiring systems.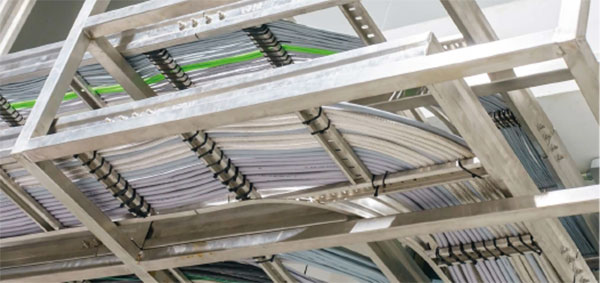 Over the years alternative European cable constructions such as SY, CY, YY and NYY have been used. SY, CY and YY cables are not made to any specific recognised national standard, but market demand led to BASEC developing in 2019, an inhouse PVC and LSHF standard to give confidence to installers and specifiers that manufacturers make consistent quality cable that meet the cable's performance requirements, but primarily they are control cables.
The uptake todate of BASEC approved cables to their BA standards has been one overseas manufacturer for PVC based SY and CY constructions! NYY cable are not based on British standards but German VDE 0276 and IEC 60502-1, they are designed for fixed wiring Power and Control applications, but only made using PVC materials.
Amokabel UK have recognised that there was a gap in the UK market for a specific non-armoured British designed and manufactured fixed wiring cable and came up with Flexipower to complement their well-known Flexishield range of cables. Flexipower is BASEC approved under the organisations Certificate of Approved Design (CAD), CAD 038, it is a 90oC rated cable and therefore has increased current carrying capacity compared to 70oC or 60oC rated cables, providing it is installed in accordance with the Wiring Regulations BS 7671.
As you would expect of a new cable design Flexipower is designed with Low Smoke Zero Halogen materials, so it meets the Flame Retardant, Acid Gas and Smoke emission requirements required in modern buildings, it also has a good level of Reaction to fire as outlined in the Construction Products Regulations (CPR) with a Declaration of Performance – classification of Dca.
Whilst Flexipower is a fixed wiring cable used predominantly for indoor use, it has a UV stable sheath and so suitable for outside use as well. The range of cables consists of 3 to 7 cores, sizes from 1.0 to 6.0mm2, using either class 2 stranded or class 5 bunched copper for increased flexibility, core colours to suit the application for power cores and or Dali control cores as required in lighting systems.
All in all, Flexipower is an easy to use truly versatile fixed wiring non-armoured cable for use in all commercial buildings either as a traditional install or part of a modularised wiring system.

For more information, please contact Amokabel on 01623 645007 or enquiries@amokabel.co.uk