GDPR and Brexit both seem to be all anyone has talked about over the past few years. Yet no one seems to be any clearer on these topics.
GDPR (General Data Protection Regulation) came into force in May 2018. But many companies (particularly smaller ones without a specialist, dedicated team handling data) are still unsure about what exactly this entails. As for Brexit, no other country has left the EU before so there really is no yardstick. And with more scare stories available than facts, it is very difficult to know what may or may not happen post 29thMarch 2019.
So, in light of this – what does the future hold for the manufacturing industry?
The GDPR opportunity
Although GDPR came into play almost a year ago, it's still a hot topic. The regulation protects the personal data of any EU resident and applies to any company that has employees, suppliers or customers in Europe. Meaning even a US-based manufacturing company that uses a UK supplier for component parts will be bound by the rules of the regulation. And while there is a lot of uncertainty about Brexit, one thing is clear: GDPR is here to stay (the UK government has already said the regulation will continue no matter what the outcome is).
As many manufacturing companies move from mass production to customisation, GDPR could be seen as a potential threat to innovation. On the surface, the regulation appears to restrict a company's use of personal data. Making it difficult for manufacturers to tailor products and services based on their customers' behaviours and preferences.
However, it also presents a significant opportunity for the future. Within the manufacturing industry, GDPR offers a framework for building trust and being more transparent. It doesn't stop companies working with personal data. It just allows them to redefine their relationships with customers, employees and suppliers.
As a result, manufacturers which work to gain the proper consent and demonstrate they are using the data properly will be rewarded with customers that are willing to consent to their data being used. Enabling companies to continually improve and personalise the services they deliver.
Overcoming Brexit uncertainty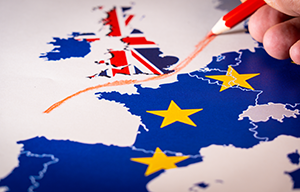 When it comes to Brexit, things are more uncertain. We don't yet know what the final deal will be (or even if there will be a deal at all). And there are still talks about a second referendum to potentially 'cancel Brexit' altogether.
In terms of trading, leaving the EU without a deal would likely result in the most change and disruption. This scenario could potentially see supply chains become more complex and the cost of moving goods to or from the UK increase – as well as restrictions on the free movement of labour.
But rather than being something to be feared, this could actually present a good opportunity for manufacturers to move production back to the UK in the future. In fact, a survey by the Chartered Institute of Procurement and Supply (CIPS) found that 32% of UK businesses who used EU suppliers in 2017 were already looking for British suppliers. So, what are some of the benefits of reshoring?
Many people will argue that offshore manufacturing is cheaper, but this isn't always the case when you take the logistics costs into account. Plus, there are fewer hoops to jump through if all parts of the supply chain remain in the UK. Local manufacturing also offers added flexibility, improved communications, enhanced control and visibility, better lead times and often higher quality end results. Additionally, reshoring UK manufacturing presents a great opportunity when it comes to retraining people and reskilling them in new techniques.
How does EMS fit in?
Many manufacturers have already realised the benefits of reshoring, but the process is far from straightforward. Cost and profitability are critical to the success of any reshoring. At EMS, we have helped several customers reshore their requirements for electronic manufacturing services back to the UK from both the Far East and Europe. Tools such as the Cost-Differential Frontier (CDF) calculator can also help companies compare the options of producing locally or offshoring, by looking at demand variability and putting a number on the costs.
As a sole UK manufacturer, all our production is carried out in Newbury, Berkshire – allowing our customers to benefit from all the advantages associated with using a local company. Our specific New Product Introduction (NPI) teams are also always on hand to ensure communication is clear at every stage of the process and that everything runs smoothly – while eliminating any ambiguity regarding data, production and processes.
To find out more about our services and how we are continuing to provide high-quality and cost-effective solutions for our customers, please contact us today.