Powerstar, UK manufacturer of leading-edge smart energy solutions, has been selected to partner with Good Energy on its battery storage framework, helping to strengthen the clean power sharing company's commercial and industrial (C&I) energy storage offering in the UK.
One of only two companies to be announced, Powerstar was selected following a competitive tender and procurement process, alongside Belectric, and will be tasked with supporting Good Energy with the design, installation, operation and maintenance of major commercial battery storage projects.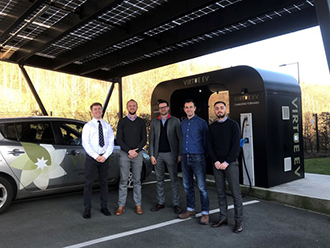 Good Energy said the partnerships with Innogy-owned Belectric and Powerstar would ready the firm for future projects and put into place a key part of the framework for their delivery, providing an excellent opportunity for business supply customers to procure battery storage solutions that are fit for purpose and manufactured for their needs, thanks to the structured approach that Good Energy has put in place.
It will also assist in educating commercial customers on how battery storage can help them take ownership of their power, enabling energy resilience, carbon savings and cost efficiencies.
As a trusted supplier on the framework, Powerstar will support Good Energy in supplying Powerstar VIRTUE battery energy storage solutions that can help deliver a host of benefits including maximising renewable energy, minimising CO2 emissions, reducing energy consumption and costs, all whilst delivering energy resilience through its full Uninterruptible Power Supply (UPS) capabilities which can fully support the load during a grid event such as a loss of power.
Dr. Alex Mardapittas, Chief Executive Officer at Powerstar, said: "We are incredibly proud to be one of the few chosen suppliers selected to be a part of Good Energy's business battery storage framework. It displays the level of quality we uphold for our solutions and highlights our focus of sustainability as a business.
"It is a positive step towards the wider adoption of energy storage technologies to maximise green energy in the UK as renewable generation continues to become a larger part of the energy mix. We look forward to working with Good Energy to provide a sustainable, and more resilient, future for the UK's commercial sector."
To find out more about Powerstar and good energy, please visit https://powerstar.com.